Animals of the Month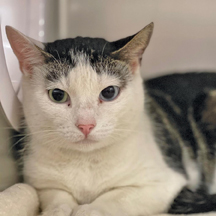 Mila: Recently ARF was able to help ease the burden at the Town of Hempstead Animal Shelter by taking in several adult cats. Beautiful Mila, with two different color eyes, was one of these cats. Mila has already been through a lot in her short life. Rescued from a hoarding situation with close to ninety cats, Mila is slowly settling into shelter life. She is sweet, curious, and she is good with other cats. We hope you can help us get her into a new home soon.
JoeJoe: Happy, bouncy, loveable JoeJoe needs for a forever home as active as she is. With her gorgeous red coat and her exuberant personality, this one-and-a half-year-old is hard not to love! JoeJoe plays hard, and a meet-and-greet would be a must for other pets in the home. JoeJoe is quickly learning her obedience skills and will be the perfect family pet with continued training.
For more information contact adoptions@arfhamptons.org
or call 631-537-0400 x203.
All ARF animals are vet checked, spayed/neutered, microchipped and up to date on all vaccines. To view all of our adoptable animals, visit: www.arfhamptons.org
NYS Registered Shelter/Rescue #RR035
ARF Designer Auction & Cocktail Party
Join ARF Hamptons on Saturday, May 28, for the 2022 ARF Designer Auction & Preview Cocktail Party from 6 to 8 PM at the ARF Thrift & Treasure Shop, 17 Poxabogue Lane in Sagaponack. The cocktail reception will celebrate the launch of ARF's two-week online auction (May 28 – June 11) featuring furniture and decorative items for the home donated by longstanding friends and ARF adopters, including some of the most admired designers, artisans, and dealers in the country. All proceeds will benefit the cats and dogs at the ARF Adoption Center. Advance tickets $200, at the door $225. Tickets and bidding at https://give.arfhamptons.org/arfauction.