An Expansive, History Making Renovation & State of the Art Building Project
Event Imagery by Lisa Tamburini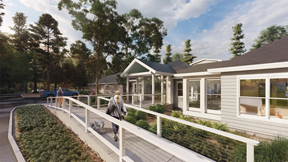 The Animal Rescue Fund of the Hamptons (ARF Hamptons, www.arfhamptons.org) held a groundbreaking ceremony on Friday, May 28, 2021 from 4 to 6 PM for FOREVER HOME, a state of the art rescue, adoption, sanctuary and year round training facility that will transform ARF's campus and the lives of animals and their adopters.
Specially trained canines dug the first hole for ARF's dramatic new expansion during the kick off to Memorial Day weekend while ARF leadership, patrons, volunteers, county officials, and animal lovers gathered responsibly and enjoyed Rolling in Dough's mobile pizza oven, Dreesen's doughnuts, and refreshments.
The Town of East Hampton also honored long time resident Richard Wells McCabe with a special proclamation to recognize his extraordinary support of the ARF community through his transformational lead gift to ARF's FOREVER HOME project.
In attendance ARF Board Chair Katharine Rayner, Richard Wells McCabe, Patricia and Michael Franzino (ARF board Executive Vice President), Alex Papachristidis (ARF board), Charles and Ellen Scarborough (ARF board) with dogs
Phoebe and Emma, Robert Liberman (ARF board) with his dog Lucy, Zoe Kamitses (ARF board) and Susan Burke (ARF board) and their dog Charlie Dickens, Sandra Powers (ARF board), Polly Bruckman (ARF board), Adam and Michele Backman (ARF board) with their dog Vera, East Hampton Town Supervisor Peter Van Scoyoc, Patrick Campion, Richard Ziegelasch, Amanda and Lewis Berman, Dr. Ralph Gibson, and Virginia Coleman.
BACKGROUND: Designed by the Bacon Group, FOREVER HOME will be anchored by the Richard Wells McCabe Welcome Center. Dogs will move into a new 40-kennel building constructed with high-quality materials and a nitrogen-reducing waste treatment system along with flexible rooms for dogs with special needs, meet-and-greet rooms for adopters, and new outdoor exercise areas. A sophisticated HVAC system will cool, heat, and dehumidify the air, as well as treat it with UV LIGHT.
The space will feature retail and new homes for small dogs and puppies. Additionally, ARF's catteries and kitten room will be completely renovated and include custom-built features for climbing, perching, and play.
A new 8,400 square foot year-round training center will be built on-site to accommodate year round training, socialization, and enrichment to ensure animals become or remain adoptable, and increase our capacity to provide classes for the public and ARF's adopters. This state of the art facility will include a viewing area, outdoor play yard, and an environmentally conscious waste system.
This extraordinary renovation was made possible by the very generous donations of animal lovers in Suffolk county and beyond as part of ARF's ambitious campaign to meet the challenges of adoption needs, and community outreach for animal rescue and welfare. The animal human bond is a source of joy and comfort to so many, and the facilities in a community, which serve the needs of animals through adoption or training, are an important part of a happier, healthier community. ARF's programs go beyond adoption, into programs like our Pet Food Pantry, which provides free pet food to low-income families and veterinary and training services, which provide jobs and training that become a vital part of the surrounding community.
ARF invites everyone to be a part of their animal-loving community, with many opportunities to get involved. Contact ARF's Executive Director, Scott Howe at scott@arfhamptons.org or 631-537-0400 ext. 209 for information on supporting ARF.