In the early 80's founder, Dr. Herodotus "Dan" Damianos, had a dream. As a Doctor working at Stony Brook, he loved the North Fork and decided to buy a potato farm.  Eventually, working together, Dr. Damianos and his young family started to plant vines. Named after his son Pindar, his dream and years of hard work helped create the winemaking industry on Long Island in the early 1980's. And that dream has, over 35 years later, turned Pindar Vineyards into Long Island's best-known wine producer.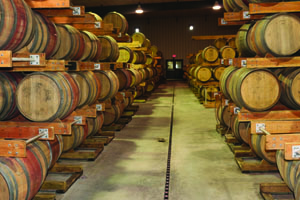 The over 500 scenic acre Vineyard is now run by siblings, Pindar Damianos, Jason Damianos and Alethea Damianos Conroy. They grow 17 varieties of grapes, crafting them into some 23 varietals and proprietary blends. Producing 70,000 cases of wine a year, makes them the largest vineyard on Long Island. "But at heart we are still a family with a personal touch in every aspect of our business." You can find them at the Vineyard, at tastings throughout LI, and Pindar is in MTK on the green at the Thursday Farmers Market.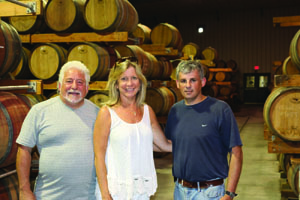 We had a visit to the Vineyard on a beautiful June afternoon with old LI friends now in living in Maryland and they were surprised at the increased size and new buildings. Pindar gave us a tour of the facilities including the production rooms, fermentation and barrel rooms. The enormity of it is quite amazing; especially since it's over 80% powered by a 156 Foot tall, 100 Kilowatt Wind Turbine that sits in the field aside the building. "This is a significant achievement for Pindar Vineyards. A symbol of our continued commitment to sustainable agriculture and renewable energy," – Alex Damianos, General Manager at Pindar.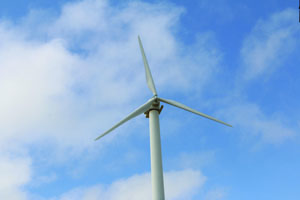 In addition, Pindar has pioneered the movement away from chemical fertilizers and pesticides with a massive composting operation and they utilize a geothermal heating and cooling system for its wine-making tanks -a zero-emissions system that reduces the use of fossil fuels.
In the tasting room their bottles are recycled, the light bulbs are efficient compact fluorescents, and the use high efficiency dishwashers use a fraction of water than their conventional counterparts. In addition, customers are encouraged to bring back their corks for recycling into corkboard and flooring. "We are now proud to say that the process behind creating every bottle of wine at Pindar Vineyards is environmentally friendly and we continue to seek ways of protecting the integrity of this land for generations to come"  – Pindar Damianos.
The wines vary from light sweet dessert wines, to summer rose, steal or oak fermented whites, and a wide selection of reds. Some of my favorites include the Summer Blush which is a semi-dry Rose made with Merlot and Cabernet Sauvignon grapes, with a unique subtle strawberry flavor; refreshing and simply delicious with light summertime foods. I'm an oaky white drinker so the Sunflower Chardonnay which is limited special reserve and completely barrel fermented in new French oak. It has lush vanilla and caramel notes, with a back palate of apple and pear; perfectly balanced with a bright splash of acidity, is it a magnificent pairing for lobster and summer salads. Pythagoras which is a special red that was first crafted to celebrate their 15th anniversary of winemaking on Long Island.  It has the round and full characteristics of Merlot with the slight herbaceousness of Cabernets. This award-winning blend has been named "Best US Red Blend" by the Beverage Testing Institute in Chicago and "Best Red Vinifera" in Vineyard & Winery Management's "Best of the East" competition; it's sure to please a wide range of palates.
If you like dessert wines they offer a variety: My favorite, is the Cabernet Port: Selected Cabernet grapes are aged in small oak barrels for two years to create this deep and hearty vintage Port with flavors of toffee, chocolate, and ripe cherry. This Port was selected to be in a time capsule commemorating the 50th anniversary of Brookhaven.
2015 Riesling Dessert Wine: a stunningly rich and complex dessert wine which is sweet and fruity, with concentrated flavors of apricot, honey, and passionfruit.
2014 Gewurztraminer Dessert Wine: a dessert wine shows notes of rose, clove & honeysuckle on the nose and a taste is of tangerine, citrus zest and honey.
2014 Chardonnay Dessert Wine: a sweet dessert wine shows notes of tart apple and dried fig on the nose and the taste is pineapple and key lime, with enough acidity to brighten up the palate.
Offering music most weekends throughout the season, including Friday sunset events, Pindar encourages a relaxed family atmosphere on their beautiful grounds and pavilion which are surrounded by the vast expanse of vines and a sunflower field adjacent to the tasting room.
Many events are held on the grounds in Peconic as well as at Duckwalk which they also own. Visit their website for additional information.      http://www.pindar.net/