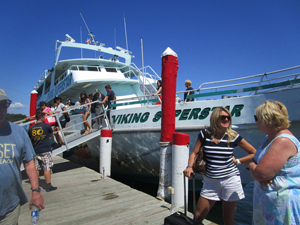 If you are looking for something different to do, while in Montauk, you may want to take the whole family, or that special someone, to Block Island. It is a fun, easy trip, and you can go for several days, or even just a day-trip.
In the old days, there was no ferry service from Montauk, so you had to go in your own boat. But for the past decades, the Viking Fleet has been running trips to Block Island from Montauk, and it is a fast, safe way to get there. All you do is make a reservation (631-668-5700 or vikingfleet.com) and show up at the dock a little before 10 a.m. to board their huge Viking Superstar. For the faint-hearted at sea, fear not, as this ship is 120 feet of solid steel, and gets you to Block Island in about an hour and 15 minutes!
Once on board, my friend and I grabbed some coffee in the galley, where you can also have breakfast and lunch specials, and even some cocktails, wine or beer on the way home! There are several options for seating…you can sit downstairs near the galley, outside on the decks, or upstairs in the open air. We headed straight for the top deck, to work on our suntans and get the great views and photos. It's always a beautiful sight pulling out of the Montauk Harbor, past the charter boats and the draggers at the Town Dock, past Gosman's Dock, and through the jetties into the open water.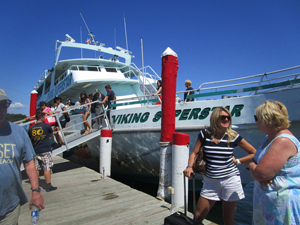 On the way to Block Island, we passed Shagwong Beach, the Montauk Lighthouse, and many fishing boats. It was a sunny and warm day, as the Viking Superstar cruised into the New Harbor, past hundreds of moored sailboats, and even some offshore windmills in the distance. The first Deep Water Wind Farm is about to open soon, since Block Island has the most consistent wind in the U.S. We docked at Champlin's Marina, and walked along the boardwalk past some beautiful private yachts.
At the top of the hill, we were met by the famous Aldo's Car, Moped and Bike Rental people, who took us to one of their shops in a white van. We always look forward to greeting Leo Leone, Jr., of Aldo's Block Island Boat Basin, where they rent cars and bikes (401-466-5811.) His whole family has several businesses on this island, for three generations, started by his grandfather Aldo Leone of Italy. In town there is Aldo's Bakery, Aldo's Italian Restaurant, Aldo's Ice Cream, and Aldo's Mopeds and Bikes. Leo's father, Leo Leone, Sr., runs the town businesses. His father was a baker who came to work at the Spring House on Block Island for ten years, and then started his own businesses there.
This year we got a lime green, Volkswagon Beetle convertible, which my friend was psyched to drive. Last year, I got a tiny Smart Car, the kind they drive in the Caribbean Islands and elsewhere. We drove our Aldo's "bug" into town, past the quaint stone walls that this island is known for, and entered the Main Street, where the famous Surf Hotel and National Hotel are located. These two historic hotels overlook the scenic Old Harbor, and are really worth a trip. There is also the famous Spring House Hotel, a charming guest house with a wrap-around deck for lunch, and the beautiful Payne Harbor View Inn, with sweeping water views, where owner Carol Payne can tell you lots of history from her family. There is also the famous Hotel Manisses and Restaurant, with their exotic animal farm, a sanctuary for camels, kangaroos, lemurs, a tortoise, and even a Zedonk (half zebra and half donkey!) I always visit the quaint, picturesque Inn at Old Harbor, owned by Gabrielle and Kai Costanza, of "Kai Kai Sandals" stores in Montauk. Their rooms are something from a romance novel, and the staff is friendly.
Block Island, which is part of Rhode Island, has a rich history, and it has done
much to preserve its historic buildings. Traveling here is like going back in time. Being only about 10 square miles, the island is easy to get around by car, taxi, moped or bike, and all are available here to rent. There is much to see on this small island, of about 1,200 year-round residents, including the North and Southeast Lighthouses, the beautiful ponds with their lily pads, the old beach cottages, some art galleries, great shops, a tiny movie theater, and the Mohegan Bluffs.
We chose Ballard's Restaurant for lunch, because we like to sit on the beach, and this gigantic place has something for everyone. There is seating inside, outside on the patio, and on the beach. Inside is a huge bar, and at night it is one of the happening places.
Other great lunch spots on Block Island are Finn's Restaurant, down the hill, and also the Three Sisters, a picnic-like casual place to eat, and Dead Eyed Dick's, for great seafood, which has been there over 50 years. Also check out the Bellview House and Winfield's Restaurant for American-Fusion fine dining.
Sitting in the bright sun, under a blue umbrella, we ordered some mussels and steamers, which were perfect and not too sandy, and also shared some amazing lobster sliders, which were generous with their portions. All around us, people were dining and lounging on the sand, in a sea of blue umbrellas. A few Mimosas later, we were off to another well-known spot, Crescent Beach, for some more sun and swimming.
Heading north, there are many beautiful, white, sandy beaches, one after another. Today with the perfect weather, it was crowded and lively, and we made our way over the dunes to the wide oceanfront below. Jumping the waves was a great way to spend the next hour or two, only wishing we had more time, as the ferry leaves at 5 p.m., if you're doing a day trip.
We had time for one more drink before departing, so we headed over to the Surf Hotel, with its vintage décor in the lobby, and went out the back door to the majestic view before us. The tables and outside bar are literally hanging over the water with a full view of the gorgeous beach and ocean below! We promised ourselves we would come back soon to try this place for dinner, as the setting is, well, JUST SO BLOCK ISLAND!!
For more information, call or visit the Block Island Chamber of Commerce, at 401-466-2982.