by Courtney Hughes Browne, Morgan de Rham, Ashley Hughes Calo, and Trevor Hughes
This year Carol and Kevin Hughes of Point Lookout, New York celebrate their 50th year of marriage, or in their words, "uninterrupted wedded bliss." To commemorate this milestone, in May the couple will return with their children and grandchildren to Montauk, where they spent their first several months as a married couple, living in a tent at Hither Hills.
Both raised in Queens, Carol and Kevin married soon after graduating from St. John's University. Among the first in their families to graduate college, their life plans differed from those of their parents and generations that came before. It was the summer of 1972 and Carol and Kevin were looking forward to camping as newlyweds in a tent on the beach over the next few months.   At their wedding, the bridesmaids donned checkered dresses, in varying colors of the rainbow, handmade by the bride. Carol even sewed her own wedding dress made of white cotton. Kevin's brother, a/k/a Uncle Jimmy, quite the character and known for his humor and brevity, gave the toast:
"From the sunny shores of Montauk
to the blustery slopes of Stowe
there go Carol and Kevin,
their two-man tent in tow."
To make a living that summer, Kevin, tall and handsome, got a job as a state parkway cop. He became friendly with the lifeguards, and patrolled on and around Old Montauk Highway. Carol, with her long, golden blond hair and sun-kissed skin, relaxed on the beach, characteristically keeping busy by crocheting bikinis.
Although it was a short few months, a lifetime ago, the memories made and experiences created in Montauk had a profound effect on the couple. Indeed, their time in Montauk formed the basis of many a story told over the decades to their four children at the dinner table or at bedtime. Some of the highlights include Kevin and his lifeguard friends joy-riding in his police cruiser to John's Drive-In for ice cream; having a one-person cot as their bed; picking mussels off of the rocks to eat for dinner; and, rinsing off the sea salt at the Hither Hills' bathhouse after a late afternoon sail. (For posterity, we must note that Carol was not fond of how the women's bathhouse was completely in the shade in the afternoon, and therefore quite chilly compared to the men's bathhouse that received full sun).
Not surprisingly, their time in Montauk in part shaped Carol and Kevin's beliefs and values as to where and how they wanted to plant their roots and raise a family, cemented their love of the beach and ocean, and confirmed that an outdoor shower was a necessity.
They raised their athletic kids to become avid swimmers and ocean lovers–all at one point becoming ocean lifeguards and all currently living with their own families within a short drive or walk to the water.  Carol and Kevin's time in Montauk also lives on through their tribe of eight grandchildren that includes surfers, swimmers, sailors, artists, musicians, snorkelers, water polo players, and naturalists.
The colder weather of late fall came, and eventually, the honeymoon time in Montauk ended, setting "real life" in motion. In stark contrast from the beach, the couple at first contemplated moving to New Hampshire to live in a cabin in the woods, so Kevin could become an English teacher and writer. Instead, with the goal of eventually living by the beach, Kevin became a New York City Firefighter, attending law school in the evenings, only to get laid off during the late 1970s fiscal crisis. Making lemons out of lemonade, Kevin eventually passed the bar and became a lawyer following school. At the same time, Carol pursued her masters, to become a math teacher and eventually an Assistant Principal within the New York City school system (but after a 20-year hiatus as a full-time mom, often with a side-hustle, that involved sewing or crocheting to help facilitate the kids' many athletic and artistic endeavors).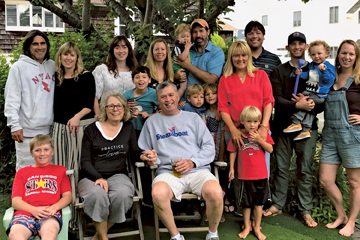 Over the years and as their family grew, objects from Carol and Kevin's time in Montauk were repurposed; the brown cooler they used as a fridge in their tent became the cooler to house all the food necessary to take four kids on a road trip in their Volkswagon Vanagon, or to hold some of the beverages for a family party.  Similarly, the blue canvas tent that was their first home became a place for their kids to "camp out" in the backyard. But even so, they never lost their interest in adventure that was stoked in Montauk. Throughout their 50 years of marriage, Carol and Kevin have led by example and sometimes on a very tight budget,  seizing every opportunity to create a fuller life and wonderful memories for their children and grandchildren alike. When visiting friends or family, Carol and Kevin lovingly referred to their family of six as "the invasion" and taught their children never to turn down an invitation.
Perhaps in an attempt to recreate the experience they once had as newlyweds living in Montauk, Carol and Kevin built a home by the beach, fostering a sense of place and community for their children, and enabling the opportunity to cultivate long-lasting friendships- the type that are unique only to small beach towns.
Much like most beautiful beach hamlets on Long Island, Montauk has evidently changed over the last 50 years. However, its beauty remains and its calming, yet joy-inducing effect can be experienced when the smell of salt air hits your nostrils or when the ocean first comes into view–an experience surely felt by Carol and Kevin as they first turned off Old Montauk Highway and into Hither Hills camp area, with their tent in tow as husband and wife.
And so, fittingly, in an effort to share that feeling and create new memories with the next generation, "the invasion," now 18-members strong, returns to "The End" this May to mark "the beginning" of Carol and Kevin's adventure.
WE CAN'T THANK YOU ENOUGH FOR ALL YOU'VE DONE AND ALL YOU CONTINUE TO BE. WE LOVE YOU! CHEERS TO 50 YEARS!