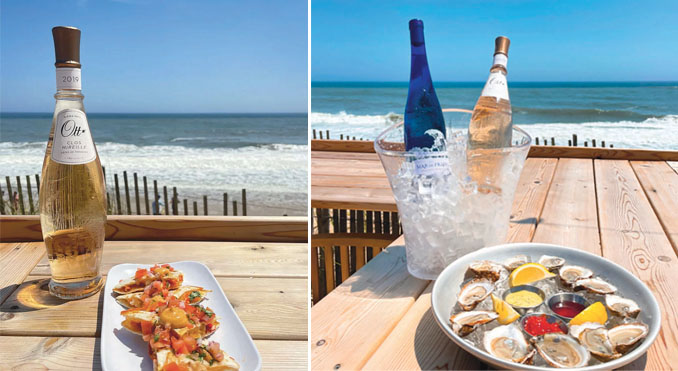 Just steps off the beach in town, this lovely gathering place has brought a new feel to the Montauk beach scene. Casual, friendly, and delicious, the Sandbar in its first season, has proven to be a wonderful addition to Montauk. Partners Joey, Maurice, Jamie and Clay have taken the perfect beachfront property and transformed it into a fine beach fare dining and cocktail destination; the only oceanside venue in downtown Montauk.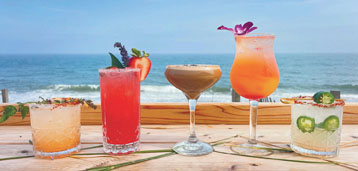 I've had the pleasure of enjoying a bite and a cocktail a few times earlier in the season, and was looking forward to this visit. After being greeted by Shea, the manager, she sat us at the high-tops overlooking the beach, with sun triangles overhead, pool and hotel behind us, and poolside thatched roof bar to our side. In addition to the high-tops, the sitting area includes a row of cozy couch and table setups divided by palms. Although it was a hot August day, the light ocean breeze and shade from above made it bearable.
As we enjoyed a creamy Pina Colada, and a refreshing Grapefruit Hibiscus made with 21 Seeds Tequilla, we chatted with Shea and one of the owners about the menu and plans for the fall. They described a few new items that have been added, we'll get to a few in a bit, and they told us that the summer has been great and they're planning to stay opened into October.
We decided to let the chef send out some favorites, and as we waited, we enjoyed the relaxing view of the ocean and live reggae music from the patio. Adding to the relaxed beach vibe, there's live music every Wednesday through Sunday. Some additional drink highlights are the Watermelon Margarita, Froze, the Peanut Butter Mudslide blended with screwball whiskey, and the Hendricks Cucumber Cooler.
To begin, chef sent one of the new menu items; the Honey Truffle Ricotta. This dish is unique, delicious, and -be warned- addicting. Whipped fluffy, the ricotta cheese dressed with the truffle oil and honey on the toasted sourdough with slices of sweet melon creates a light and refreshing snack. Another wonderfully light dish is the Prosciutto Di Parma & Burrata; arranged on a platter with sliced heirloom tomatoes, basil, and focaccia crostini, with a balsamic and olive oil drizzle.

A new item from the dinner menu is the Spicy Rigatoni made with San Marzano tomatoes, caramelized onions, and chili. This perfectly spiced al dente pasta dish is a fabulous light summer treat, and lobster can be added for an additional charge. Speaking of lobster, although we did not have it this time, their Lobster Quesadilla with lobster cream, parmesan, and Monterey jack, is absolutely delicious. To try something different, they sent out their popular East End Lobster Roll; full of fresh Lobster blended with celery, chives, and a light citrus mayo on a toasted buttered brioche, and served with a mixed side salad and French fries.
Although everyone agreed that all of the dishes were full of fresh flavor, beautifully presented, and quite tasty, I'd say that in addition to the Ricotta, my favorites were the Tuna Poke Tacos and the Pan Seared Scallops.  Perfectly accented with, and perched upon a bed of black beluga lentils with baby artichokes, heirloom tomato, zucchini, and sauce verte, the fork tender Pan Seared Scallops are just incredible. Served in a homemade crispy wonton shell, the tender and spicy Tuna Poke sits atop a bed of avocado tomatillo sauce and is sprinkled with black pepper- perfection!
Behind these incredible meals, as well as the many others on the menu, are Executive Chef Axel Alanis Garcia and his mother Beatrice Alanis, who have been a mother and son duo in the kitchen for over 10 years. Working together in various Long Island restaurants, Beatrice has over 20 years' experience and Axel over 10 years' experience. Beatrice worked at Nick and Tonys in East Hampton, Cittanuova East Hampton, and The Seafood Shop in Wainscott. Axel worked with her at The Seafood Shop and also at Preston Hotel.
This hidden gem is much more than a beach bar. In addition to the delicious cocktails and lovely seaside ambiance, the food is top notch. Be sure to stop in for breakfast-served inside, or a beachside lunch, dinner, or even an afternoon snack. Check out their website for full menu and additional details- https://www.sandbarmtk.com/