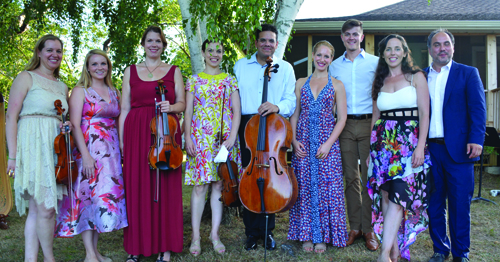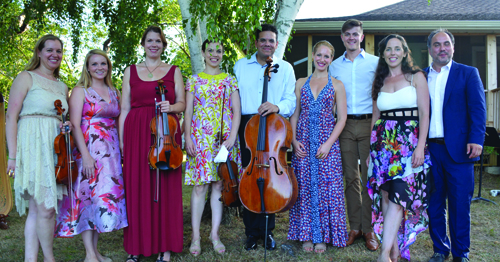 On Wednesday, August 17 at 5:30PM, this reporter was fortunate to attend the second day of the four-day summer concert series  of the Music For Montauk (M4M). This program was inspired by Shakespeare and took place in the newly reopened Fort Pond House (Carol Morrison Park).Sonnet setting by Rufus Wainwright (b.1973) and new works by M4M's violist Jessica Meyer were played.
Annaliesa Place, violin, Kristi Shade, harp, Jessica Meyer, viola, Adda Kridler, violin, Diego Garcia, cello,Jessica Fishenfeld,soprano, Philip Stoddard, baritone, Co-Artistic Director Lilah Gosman, soprano and Co-Artistic Director Milos Repicky, pianist all were superb in entertaining the 30 plus attendees who were seated by the picnic tables as they watched a beautiful sunset.
Congratulations for bringing beautiful, high caliber music back to Montauk!
M4M is a 501(c)3 charitable organization, whose mission is to present a series of high quality music programs for the Montauk Community and its neighboring villages in the Eastern Long Island.  In 30 years, it has presented over 120 musical events including Classical, Jazz, American Musical Theater, Ethnic and concert staged Opera according to Ms. Gosman. The majority of the programming is free to the public. For more future events kindly contact musicformontauk.org.