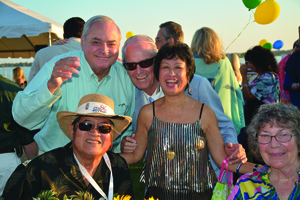 Montauk has many guardian angels, especially the recently declared 224 year old National Historic Landmark located at the tip of Long Island, the Montauk Point Lighthouse. The President of the Montauk Village Association (MVA), Nancy Keeshan, and the rest of the board members  voted unanimously to honor the Lighthouse Committee and Special Friends for the 2016 MVA's 55th Annual Greenery Scenery Cocktail Party that was held at the Montauk Lake Club and Marina on Friday, August 19th.
Chairperson Dick White, Treasurer Betsy White, committee members Greg Donohue. Bob Schorr, Harbor Master Ed Michels, Dave Webb, Joe Gaviola, Brian Pope, and recently retired, Eleanor Ehrhardt, former Site Manager Patricia Wood and Pres. of the Historical Society Kathryn Nadeau were honored.
Guests were entertained by Joe Delia & the Thieves under clear, blue skies and a sunset view to die for. Beautiful giant sun flowers in simple mason jars placed on navy blue tablecloths with matching blue-green balloons decorated the venue. Delicious hors d'oeurvres, hot food, desserts and cocktails were served throughout the evening as couples danced the night away.
Auctioneer Dave Winters did a great job in the bidding of 15 items from paddle boards to priceless pictures. All who came received a wine glass etched with MVA Greenery Scenery 2016 and the Arbor Restaurant logo. Cookies with the lighthouse photo were also given.
The Grand Prize, 2nd and 3rd raffle winners of the night were won by Diane Lazuta, Lauren DeRosa and Lawrence Duca. Monetary scholarship winners were Shane Moloney, Karen Castro Sanmartin, Jessica Rottach & Tyra Stewart and Samantha Prince. Congratulations to all the winners!
Ms. Keeshan, VP Gail Webb, Treasurer Marge Harvey, Sec. Helene Fugazzi, and members of the Board: Cecilia (Nibs) Mullen, Gabrielle Costanzo, Leyla Marchetto, Eva Iooss, Barbara Jean Alexander, Christine Coughlin and Patria Baradi Pacis wish to thank all the event sponsors, Marc Rowan of Arbor and Duryeas, Gurney's, Navy Beach,Chris Stephens of Mtk 7-11, Brenda and Jim Howard and Gail and Dave Webb, Kristen Koop of the Art Design and Graphics and all who donated the items for the auction and all the volunteers.
The MVA is a tax-exempt not-for-profit organization founded in 1961 for the purpose of furthering charitable, literary and educational projects of a public nature, including the acquisition, improvement and care of lands, beaches, ponds and structures for public use. If you love Montauk and you want to keep it beautiful, donations are welcome. For further info kindly contact montaukvillageassociation.org or MVA, P.O. Box 457, Montauk, NY 11954  or 631 668 2000 or e mail: mymontaukvillage@gmail.com