by Sue Giustino
Situated just one block off the circle in town, Muse has become a favorite spot for locals and visitors. Mario and the rest of the staff is welcoming and ready to serve.  Whether at the illuminated bar, a bar table, on the outside patio, or in the dining area, the service is exemplary and the food delicious.
With a cocktail in hand, our server brought us the signature warm rolls with a side of butter, olive oil, and tomato pesto for us to enjoy. They are delicious, but be sure to save room for dinner!
After relaxing a bit, Chef Fabian served up some of his specialties for us to try. The Salmon Tartare Wonton Tacos with a side of arugula salad were quite a hit: Miso/ginger wild salmon topped with chives, toasted sesame seeds, fresh avocado, black tobiko and cilantro all in a crispy Korean wonton that doesn't fall apart as you eat it. The fresh and tender
Tuna Menage a Trois is finely arranged for a lovely presentation of the three varieties of tuna, and is worth a try. The Ahi Tuna Poke is atop a bed of cous cous with olives, the
Blackened Tuna Lollipop with whipped avocado is a bit spicy and delicious, and the Wasabi Crusted hot stone Seared Yum a Carpaccio with wakame salad and siracha aioli rounds out the dish beautifully with a bit of extra flavor and crunch from the wasabi crust. Yet another tasty new addition to the appetizers is the crunchy outside and creamy cotija cheese and corn centered Corn Poppers, served with avocado crème fraiche, chipotle aioli, and radishes.
Each season the menu includes some type of meatball, always interesting and new.
This season's style is Grilled Chicken Gyro Meatballs, which are tender and tasty. Put altogether with the accompanying cucumber ribbons, house tzatziki, eggplant tapenade, pickled red onions, and grilled pita it makes a lovely alternative to a traditional meatball.
The final appetizer we enjoyed is the Calamari 2 Ways and this was the table favorite. Presented in a bowl, the Paella Stuffed Calamari with tomato braised and chipotle aioli is covered with gently fried Calamari Fritti. This is such a unique dish with the crisp of the tender fried calamari and then the flavorful and tender taste of the stuffed calamari adding another level to a traditional calamari dish.
After all of those delicious appetizers, it was time for the Spring Apple Salad; arugula dressed with champagne poached gala apples, shaved almonds, goat cheese, and a maple syrup vinaigrette. It may sound a bit sweet, but it wasn't.  The combination of flavors blended perfectly, along whit the tender apples to create a light flavorful salad.
These are a just a sampling of the array of appetizers and salads on the menu- most are sharable so, if you choose, you could make a meal of appetizers. However, since we needed to do a review…main entrees were in order. Each one was absolutely beautifully prepared and presented, tender, and full of unique flavors.
Sauteed Shrimp, spinach, and a lemon garlic cream sauce served over Campanella pasta made an excellent light springtime Shrimp Scampi dish. Seared to a gentle crisp Plancha Sun Dried Tomato Crusted Salmon served with spring vegetable medley of peas, sweet corn, baby zucchini, and a pea arugula pesto which gave it a little citrusy taste.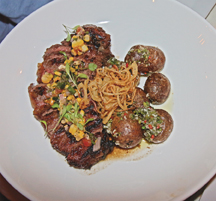 The Grilled 14oz New York Strip Steak is cooked to order and served sliced, accompanied by crispy chimichurri baby Yukon potatoes and poblano salsa Verde. The steak was perfectly cooked and bursting with flavor, and I personally like that it is thin sliced and ready to eat. The final selection was a very thick and juicy Black Pepper Teriyaki Glazed Grilled Pork Chop served with- absolutely delicious- crispy truffle oil polenta fries, apple butter, and a cabbage carrot escabeche.
Pork chops are one of my favorites, and this one did not disappoint, flavorful and cooked perfectly all the way through. Two other delicious choices include Cast Iron Montauk Sea Bass Spring Vegetable Primavera with roasted carrots, Brussel sprouts, edamame, cherry tomatoes, cipollini onions, grilled asparagus tips, warm roasted tomato artichoke romesco and the Ahi Tuna Stir Fry with Wok Bok Choy, edamame, bean sprouts, baby carrots, cauliflower, green beans, scallions, Miso Sesame sauce, and pea shoot fennel salad
Each entrée has a fresh 'spring' accent to it. The gentleness of the prepared fish and meats, along with a lovely selection of spring vegetables or sides has a lightness that's welcoming with the onset of springtime. Good job Chef with this delicious menu.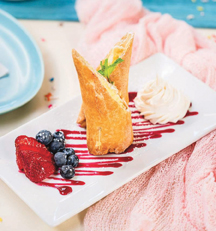 Of course, what's a fulfilling meal without a 'sweet' ending? Being quite full and a chocoholic, my choice would have been the Flourless Chocolate Cake with fresh berries, but I was unable to do it. However, my sweet-toothed mother-in-law decided a little Rice Pudding and Cheesecake Chimichanga were in order; a good choice since not all the desserts are made in house, but these two are. According to the dessert expert each was fabulous, yet the cheesecake chimichanga seemed to be the table favorite.  Be sure to check the nightly sweet treat offerings.
For further information or reservations, give them a call at 631.238.5937 or check their website for updates: https://www.museattheend.com/ .