by Patria Baradi Pacis
Montauk Library's Youth Services Librarian, Miss Jackie Bitonti, has done wonders for children of all ages including this reporter. A big thanks to the volunteers of the Friends of the Montauk Library who help obtain funds throughout the year and to other sponsors. Kudos to Program Director Denise DiPaolo for encouraging and supporting the entire library staff to think out of the box resulting in great ideas. Everyone is so helpful and happy to help members and guests with any request they might have.
This year's children's programs included Amaryllis Planting, Quogues Wildlife Refuge, Bi-lingual Storytime, Baking, Arts and Craft, Summer Reading Club growing in leaps and bounds currently up to 150 young members and local musician, Lori Hubbard's weekly entertainment by reading, singing and playing the guitar.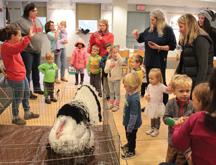 On Saturday, November 18, Miss Jackie brought real live turkeys named Thomas and Martha from the Suffolk County Farm through Cornell Cooperative Extension so that toddlers from ages 2 to 5 and children from grades 1 to 5 can interact with each other. What a turkey treat!
We have so much to be grateful for, especially to be living in Montauk with a fantastic library to be proud of and with neighbors who truly care for one another. For more library info kindly contact 631-668-3377 or www.montauklibrary.org.