by Debbie Tuma
If you're looking for an easy escape from the Hamptons over the holidays, or anytime this winter, you might consider Windham, New York. Located about three hours north of New York City, it is known as a ski area, but has year-round charm, nestled in the Catskill Mountains. Each season is beautiful, with quiet lakes for summer swimming, stunning views of gold and orange leaves in the fall, plus great restaurants, Mom and Pop shops, quaint guest houses, and lots of hiking and ski trails. Windham is also in close proximity to other fun and artsy areas, such as Woodstock, Hudson, and Saugerties.
Windham's long and winding Main Street is like a picture postcard—of unique clothing and gift shops, a beautiful, white steepled church, diners and restaurants with old-fashioned country cooking, and rambling old mansions, with views of the mountains in the backdrop. There is even a tiny movie theater, and a beautiful bridge over a ravine. Windham also boasts a spa, some spiritual retreats, and several art galleries.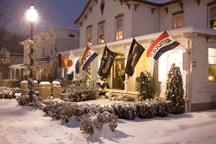 The Windham Art and Photography Gallery, at 5320 Main Street (also called State Route 23), is part of a unique bed and breakfast, called, "Beds on Clouds." The historic, charming white Victorian building caught our eye right away, with its lovely front porch covered in bright flowers, and international flags flying out front. This building, dating to 1854, is divided into the photography studio and gallery of Susumu Sato, a commercial photographer from Japan, and the "Beds on Clouds" bed and breakfast, both owned and operated by Sato and his wife, Rebecca Segerstrom, of Germany. Together for 40 years, this fascinating couple brings an international flair to both of their artistic businesses. Rebecca's tasteful decorating skills have transformed her guest rooms into a masterpiece of vintage and antique furnishings, with each of the seven rooms, a work of art unto itself.
Each spacious room includes beautiful, hand-painted cloud motifs on the ceilings, done by various artists, including Betty Sweet. And you do feel like you're in heaven, with the plush, comfy double and king-size beds, piled with gorgeous comforters, throws and spreads. My antique feather bed, king-size and hand-carved, was literally the most comfortable one I have ever slept in. And I loved being surrounded by Tiffany lamps and unique pieces of vintage furniture, original art on the walls, and an adjoining bathroom that was modern and immaculate, down to the scented soaps and shampoos.
You can have your choice of these beautiful, tranquil rooms with names like "Rainbow Clouds," Pink Clouds," "Sunrise Clouds," Sunset Clouds," and "Sitarra Clouds," which is named after Las Vegas entertainers Siegfried & Roy's first white tiger called "Sitarra." During his two decades as a commercial photographer in Manhattan, where he had a 4,000 square-foot studio, Susumu Sato photographed these entertainers' white tigers and lions of Timbavati. His rare and amazing framed photos hang in his Windham Gallery and throughout the house. Rooms at "Beds on Clouds" have air conditioning, Internet access and flat screen TV's. Rooms start at $99 on weekdays and $125 on weekends.
Another special feature at "Beds on Clouds" is the wonderful gourmet breakfast each morning, prepared by Susumu Sato himself. We sat in a charming pink-painted breakfast room outside the Photography Gallery, lined with old-fashioned teapots and china on shelves, and we sat at a lovely oval table with other guests for good conversation. We loved his fluffy omelets served with sautéed veggies and piles of fresh fruit, fresh baked bread, and the best coffee!!
Susumu and Rebecca told us their unique story of how they met in Manhattan, 40 years ago, when he had moved there from Japan to pursue his photography, and she helped to promote his work and decorate his studio into an amazing, fashionable space where numerous celebrities were also photographed. They created an internationally known advertising and editorial studio, with clients from around the world. The two traveled in their business for many years, before finally leaving Manhattan after 9/11, and moving up to Windham to be near friends. For information, call "Beds on Clouds" at 518-734-4692, or visit www.bedsonclouds.com
We tried some great restaurants, within walking distance, like Mill Rock Inn, a cozy and casual place with good country cooking and brick oven pizza, in a pleasant dining atmosphere, further down Main Street. We shared two pasta specials, one with salmon and the other with eggplant—divine! Also further down, Chicken Run, a rustic, casual place that is reasonable for the whole family, with barbecue and home cooking, inside or out, depending on the season. Then there is Michael's Diner, centrally located on Main Street, with its huge menu, huge portions, great breakfasts, and local favorites as biscuits and gravy, meatloaf, and turkey.
We also loved Vesuvio Restaurant, located about 15 minutes away in Hensonville.
Specializing in fine Italian food, we loved the romantic ambiance, the extensive wine list, and the delicious and creative pastas, veal, chicken, Caesar salad and (Rice Ball) appetizers that we ate. It rates four and a half stars.
Windham Mountain Ski Resort offers 34 slopes and trails spanning two mountain peaks with a 1,600- foot vertical drop. It also offer all types of skiing, from beginner to advanced, with groomed cruising runs for all levels, and moguls and steeps for experts.