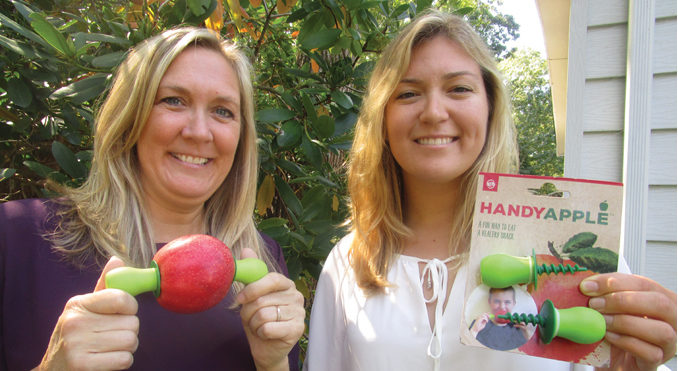 A Mother, Daughter and an Apple "Pare" Up
by Debbie Tuma
Debbie Blake-Frasca, of Great River, Long Island, has always had a knack for carpentry, but little did she know it would lead to two successful businesses. Growing up in Montauk, she was inspired to create wooden signs, with local names and sayings like "Ditch Plains," "The Beach is My Happy Place," and "Love You to Montauk and Back."
"I was a divorced Mom with two daughters, Megan and Sarah, and I needed a second income, so I used my carpentry skills and started making these hand-painted signs, which I sold at the local crafts fairs," she said. "It was popular with the tourists."
That was 15 years ago, and today, her company, "Out of the Woods Crafts," is still growing, and has gotten into stores. She attributes her carpentry skills to her grandfather, Ziggy Blake, who was a Montauk carpenter who built homes for this town's original developer, Carl Fisher. Her father, Ron Blake, is retired from the Suffolk County Water Authority.
"I'm not your typical Mom," smiled Blake-Frasca. "For Christmas I'd rather get power tools than jewelry or clothes."
And that passion, to build and create things, led to her next business, which began about 5 years ago when she was watching her young son eat an apple. By then, she was remarried, with a new child, and had moved from Montauk to Great River.
"My 5-year old son, Nicholas, was trying to hold the apple in his little hands, and he was getting sticky and it was kind of slipping," she said. "So I went into my garage and found a Molly screw and glued it to a wooden disc and found a wooden knob and glued it all together. It was like little handles on each side of the apple for him to hold onto. With no mess, which would even be worse if it was a caramel or candy apple," she said.
That was the first prototype of what was later to become her new invention called, "Handy Apple." In creating it, Blake-Frasca found an engineering designer, on a trip to Maine, who helped to manufacture and produce her product.
"It was inspired by the corn holder," said Blake-Frasca, who runs this business with her daughter Megan Morici, 26, of Montauk. The "Handy Apple" gadget consists of two "handles" made of apple green plastic, that screw into the core of an apple, one on each end. The screws have a blunt plastic tip, so they are child-safe with no blunt edges. They can be used for children age one and up.
"We call it a fun way to eat a healthy snack," said Morici, who handles the social media part of the business. "It makes snack time fun, and kids love it."
Their social media blitz led to an appearance on the Steve Harvey Show in Chicago, last April. The show, "Made by Moms," aired Mother's Day week, on May 12, 2017. This show featured several mothers who has started their own unique businesses.
"It was so exciting," said Morici. "They flew us to Chicago, and picked us up in a limousine at the airport, and we stayed at a lovely hotel for two nights. It was a great experience."
Debbie and Megan then went into New York City on September 12 to watch the "Rachael Ray Show" on ABC. They had hoped to somehow get their product into the hands of Rachael Ray, but they were not allowed to meet with her.
"But we gave some samples of the "Handy Apple" to the security guard at the show, and asked him to give it to her," said Morici. The mother daughter team has also started entering preliminary contests to get their product on HSN, and they are in the process of applying to be on "Shark Tank."
"We're focusing on kids, but it could also be used by the elderly in nursing homes, or people with Alzheimer's, Dementia, or any disabilities, to help them hold the apple more steadily," said Blake-Frasca.
Handy Apple sells for $9.99, and can be found at local places in Montauk including "Naturally Good," and "The Market," and also "Vickie's Veggies," in Amagansett, and "Hank's Pumpkin Town," in Southampton. Look for them on Amazon and at www.handyapple.com