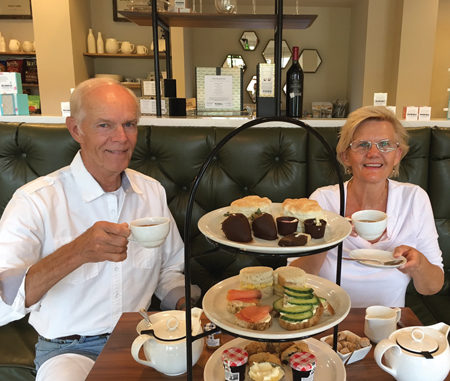 …by Ingrid Lemme-Chalut
Skiing and Precious Petoskey's
It's hard to believe that fall is on the way and though for many Hamptonites the off-season and especially winter in Montauk is "The most beautiful time of the year…" some just have to venture out to ski! We discovered during our recent Michigan adventure "The Mountain Grand by Boyne Falls" – Michigan's 'Davos for skiers'. Equipped with a private airport this authentic ski resort might just be your ultimate winter sport destination. By the way it's been that way since the late forties, when a band of ski-crazed weekend warriors made their first tracks in the snow . Everett Kircher, an entrepreneur of German and Swiss roots, founded this ski empire with a $1 investment in Michigan real estate and turned it into the countries' largest privately owned group of ski and golf resorts.
Over the years, the Boyne Highlands tradition has grown to embrace the winter season like a homecoming where visitors have access to 55 beautifully groomed and maintained downhill runs, and a wide variety of terrain parks suited to riders and skiers of every ability – all served by a network of lifts designed to make the most of each and every day. And when skiing and riding winds down, the fun continues. With tubing, snowshoeing and a host of other activities available, there is more than enough fun to chase away the winter blues. Whether one likes to sip a hot cocoa near the slopes at one of the hotels, or enjoy a condo or cottage with the family or golf group, Boyne Highlands offers many styles of accommodations. Boyne Highlands is open year round and we visited during the summer when my golf crazy husband got to play the famous Alpine Course which hosts the "Annual Tournament of Champions". "With its spectacular mountainside setting and panoramic views toward Deer Lake, its location is every bit as breathtaking is its sister course overlooking Lake Michigan."– My husband agreed. Besides, the 'Boyne Mountain Resort' features a newly refurbished spa, which I got to experience while he played golf. I like many of my girlfriends who are not into golf or skiing, love to visit resorts that have a spa and offer other entertainment. www.boyne.com/boynemountain
Michigan rocks! And not just for the Petoskey's. Did you know that dry Petoskey Stones usually look like ordinary limestone until the six-sided "rays of the rising sun" pattern pops when they get wet? To my surprise I found a couple of these famous stones along the shore of one of Michigan's most prestigious resorts, The Inn at Bay Harbor, a sister resort of The Mountain Grand by Boyne Falls and located just a walk or a pretty bike ride from the awesome town of Petoskey and a half hour car ride from Boyne Mountain. Designed in tribute to the grand hotels of the late 19th century, this Inn resides on the shore of Lake Michigan's turquoise Little Traverse Bay. Indeed, "It's a place like no other. A place where clocks and watches are forgotten…"–unless you have a tee time. My husband reported that his Bay Harbor Golf Club experience surprised him with awe-inspiring views by every hole, this one stretching along miles of breathtaking coastline. www.innatbayharbor.com
Petoskey!!! — Well before dinosaurs roamed the earth, over 350 million years ago during the Devonian period, the land we know as Michigan was located near the equator. Covered by a warm, shallow, saltwater sea, the colonial coral hexagonaria percarinata thrived with other marine life in tropical reefs. The earth's plates moved and pushed Michigan north to the 45th parallel and above sea level, which created dry land formations. More recently, about two million years ago, glacial action scraped the earth and spread the fossils across the northern Lower Peninsula, depositing major concentrations in the Petoskey area. The prehistoric fossil, unique to the Traverse Group rock strata, is called the Petoskey Stone. In June of 1965 the Petoskey Stone was named Michigan's official State Stone and Miss Ella Jane Petoskey, the only living grandchild of Chief Petoskey, attended the formal signing. In the city that bears his name, a bronze statue of the dashing Petoskey sits on a bluff overlooking Little Traverse Bay.
Until next month from another interesting location.
Love,  ~Ingrid
https://www.facebook.com/ingrid.lemme
Award-winning TV Host, Publisher, Travel Writer, Producer,
Author and Ambassador for www.Seven-Stars.com