…by Sue Giustino…
On Monday August 20th, Mike at the Lighthouse Café transformed his Café into an arena to crown Montauk's most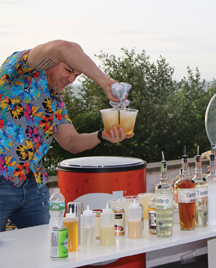 versatile, talented bar tender. Eight local bartenders spent their Monday evening accepting the challenge and competing for the bragging rights and a handsome Gold Champions Belt.
The events included an obstacle course, speed drink-making and keg carrying/set-up events, and of course a personal best mixology challenge. Utilizing Tanteo Tequila, Simple Vodka, and Montauk Hard Label, the competitors each created unique, and I would say quite tasty cocktails. After being a last minute sub judge at the event, I enjoyed these creative libations and cast my vote for the best.
The audience cheered, heckled, drank, laughed and encouraged the competitors as they tripped with a keg, flopped through the obstacle course balancing a serving tray with drinks, and dropped bottles as
the rushed through making a Moscow Mule or a Margarita.
It was a fun evening and a tight competition – Thanks to the judges Paul Monte; Chamber of Commerce, Kenny and Sue Giustino; Montauk Sun, Carter Tyler; On Montauk, and Ciny Dess; Montauk resident – for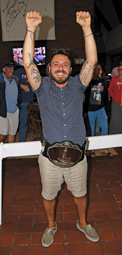 their professional cocktail sipping and judging expertise!
So the Champion is: Enzo Cangemi – from Ruschmeyers
Second Place: Jonathan & Ivan Silva – from Georges Lighthouse Café
Third: Jillian D'Ambro & Victor Centeno – from Muse
Fourth: Chris Walken & Patrick Forbes – from Gurneys
Fifth: Adrian Winn – from Memory
We're looking forward to the next one. Can Enzo be beat???