…by Sue Giustino…
MONTAUK'S NEWEST fresh and fast casual seafood restaurant
Conveniently located in the HEART OF MONTAUK VILLAGE right on Main Street- 2nd floor of the Plaza Sports building- the MTK Lobster House invites you to stop by and enjoy lunch or dinner to eat in or take-out, and BYOB!
Opened in March 2018, MTK LOBSTER HOUSE is owned and operated by Diego Flores with Chef Clive in the kitchen. Specializing in a creative variety of lobster based items such as chunky lobster rolls, bisque, tacos, and BLLT's. In addition there are mouth-watering fish and shrimp tacos, crispy fish & chips, juicy build-your-own burgers, fresh soups, salads and of course their "MTK Lobster House Boil."
Following a beautiful sunset, we ventured into the newly renovated, casual, family friendly restaurant which reflects the familiar easygoing Montauk location. Overlooking Main Street, diners can observe the bustle of village activity from the covered outdoor patio, or as we did, sit in the air conditioned dining room where we were happy to be greeted by Diego [you may remember him from Shagwongs]. After agreeing to let Chef Clive send out a sampling of his choice, we relaxed while enjoying the views of Main Street; friends and families strolling and enjoying town after a day on the beach, as another perfect Montauk day wound down.
To begin, we indulged in the chunky New England Clam Chowder and the Lump Lobster Bisque; each was served piping hot and full of flavor. The chowder had a light herbal aroma with a hint of lemon, diced potatoes, and lots of tender clams. While the bisque was thick and creamy with a gentle sweetness. Whether you're a bisque or chowder fan, they were both delicious. One of my favorites, Clives smoky, chopped Beachin' Baked Clams full of aromatic flavors were also perfectly prepared. 'Tender' undersells the delicious Tri-Calamari which is lightly battered and fried, and served with a trio of dipping sauces; marinara,
remoulade, and sweet chili. Flexin' Those Mussels in a subtle white wine garlic sauce is generously portioned and served in a mini-silver bucket with toasted bread. As for the sauce, you may need to request more bread because it's full of flavors and needs to be enjoyed.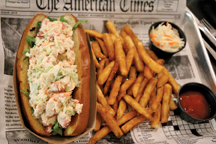 For the main course, a true Lobster Fest ensued! The Lighthouse Lobster Roll, the BLLT, Lobster, Shrimp and Fish Tacos, and the MTK Lobster House Boil. Each dish was fresh, savory and had a lovely presentation. Chunks of fresh main lobster meat and warm butter on a tasty roll and served with crispy French fries, the Lobster Roll was a big hit. If you're a BLT fan, add fresh lobster all on a toasted Ciabatta roll and the BLLT is perfect. The Tacos are offered with lobster, shrimp, or fish and prepared
with guacamole, and pico de gallo on soft taco shells. Or, as we enjoyed them, a sample of all three and they were all excellent. Finally, the Lobster Boil complete with a 1 ¼ lb steamed lobster, clams, mussels, shrimp, corn on the cob and potatoes was so fresh and delicious- a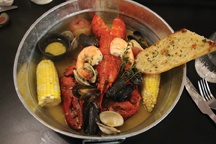 perfect dish if a whole lobster is what you crave!
Offering a variety of appetizers, soups and salads, sides and kids meals, as well as a build your own burger section and signature dishes, the reasonable menu has something for everyone for lunch or dinner. Thursdays is $25 Lobster Fest; 1 1/4lb lobster served with corn and potatoes!
They are planning on staying open all year and also offer a variety of "You Hook 'Em, We Cook 'Em" options and delivery—including beachside drop-offs—and catering, on request.
For further info: checkout www.MTKlobsterhouse.com or on Instagram and Facebook @MTKLOBSTERHOUSE or #MTKLOBSTERHOUSE