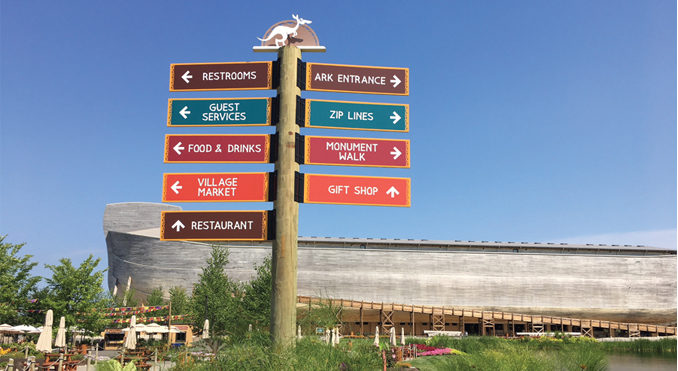 Kentucky, The Shaker Village & Noah's Ark
I had no idea of what to expect from Kentucky other then awesome fried chicken and bourbon, but what we experienced was so interesting and beautiful that we have to share with you our latest encounters!
The Shaker Village of Pleasant Hill, named a top hidden travel destination by BBC News, is located within a half hour ride from LEX airport and was our first destination. When we arrived at the compound, we immediately felt a sense of calm as the grounds are wide open, beautifully maintained and peaceful. Herein lay a landmark destination that shares 3,000 acres of discovery in the spirit of an unusual group of people that chose to live and work harmoniously in celibacy.
The Shaker community was established in 1807 and closed in 1922, and was the westernmost Shaker village in this state. With 34 original Shaker structures, most located along the mile-long gravel turnpike, the site is home to the country's largest private collection of original 19th century buildings and is the largest National Historic Landmark in the state. The Pleasant Hill Shakers are recognized for their iconic architecture and skilled craftsmanship and built more than 260 structures on the property during a span of 105 years .
We were truly excited to be able to stay overnight in an original Shaker Building, the "Trustees Office", which featured a famous pair of circular staircases that rise all the way up to the third floor. Our accommodations were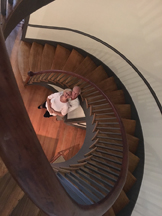 located on the 2nd floor, spacious, bright, cheery, delightfully furnished with Shaker reproductions, original hardwood floors and beautiful country views. A serene retreat for taking breaks during the day and relax between discovery tours.
And there are plenty of self-guided, as well as docent-led 'discovery tours' and presentations of the grounds and gardens and the history of Pleasant Hill. We especially enjoyed the tour of the flourishing veggie and flower gardens with farm manager Dylan Kennedy. He is continuously developing a unique style of sustainable agriculture based on building up resilience through diversity into managed ecosystems. Bottom-line, most of the veggies grown here in his gardens eventually ended up on our plates and we got to enjoy some of them during a fantastic dinner at the Trustees Table restaurant.
Shared Appetizer: Fried Green Tomatoes, served with Miss Sue's Red Pepper Jelly and Chipotle Buttermilk Dressing. Main courses: 1st dish, a finger licking Bourbon Peach BBQ Chicken, a semi-boneless half chicken, warm fingerling potato salad, southern green beans. 2nd dish, a fresh seared Idaho Trout, lemon brown butter, warm sorghum salad, garden vegetables. All dishes came hot and nicely presented, and resulted in a taste bud explosion on our side. Chef Amber's cuisine, inspired by the history of this place, and the locally harvested produce that is available to her in season, draws in not just the history buffs, but also all lovers of cuisine and culture. Amber Hokams is a graduate of Le Cordon Bleu Austin, and a Farm to Table wizard.
Are you curious to see (and hear) what it would have been like for the Shakers to sing together in the Meeting House? We were, and joined a lecture by a passionate lady who gave a highly engaging and enthusiastic demonstration of the Shaker's sounds of music and their way of life. Her extraordinary presentation is not to be missed.
The Shaker Village of Pleasant Hill provides a glimpse into this part of American history, as well as a lot of lovely scenery, rolling hills, horse farms, miles and miles of AMAZINGly constructed old stone fences. There are also 3,000 acres of scenic countryside that includes a cruise on the Kentucky River, down the same waterway that connected the Shakers to trading posts as far south as New Orleans. The Kentucky River was a source of livelihood for the Pleasant Hill Shakers and regular trading expeditions. The same landing used by the Shakers is now the launching point of the Dixie Belle, a huge paddle wheel flat bottomed tourboat. We were fortunate to see the palisades, scenic gorges and limestone outcroppings formed through millions of years, and flanking both sides on the yellow river, from this 115-passenger paddle wheeler. www.shakervillageky.org The Shaker village is only minutes away from Kentucky's oldest town, Harrodsburg.
Our next destination, Noah's Ark in Williamstown, Kentucky, halfway between Cincinnati and Lexington, right off I-75, and located an hour and 15 minutes north of The Shaker Village. But we took the scenic route through the most idyllic picture perfect countryside instead and made it in less then two hours. This alternate course is truly worthwhile!
Noah's Ark opened 2 years ago and the 'Ark Encounter' was since on our list of 'must places to see'. We parked our car at about 10:30 am in a busy parking lot and hopped on one of the large tour busses. We were then transported on a mile-long bus ride back in time and ascended to a view of the massive Ark. A sight that I will personally never forget. We got our tickets at the will call counter and within seconds of entering the compound, and seeing The Ark in close proximity we both got the chills. Breathtaking is an understatement! Though it was a midweek day early July, there were thousands of people and groups from all over the world trying to catch a close up photo as we did. A member of the Grace Baptist Church group of GA was so kind to return our favor after I took their photo
and I promised them that they would make it into my article. –This modern engineering marvel amazed not just us but visitors from all over the world, young and old, believers, agnostics, atheists, all alike. As we entered Noah's world aboard the massive Ark, we got to tour three decks filled with scores of world-class exhibit bays. These interesting exhibits allowed us to experience what Noah's life may have been like and how Noah and his family might have cared for all the animals and how the Ark was big enough to fit them all on board.
"We built the full-size Noah's Ark to answer these questions—and more!"
Bottom line, The Ark Encounter is a fascinating theme park featuring in the midst of all, Noah's Ark built according to the dimensions given in the Bible, spanning 510 feet long, 85 feet wide, and 51 feet high. The largest timber frame structure in the world, created from standing dead timber, in part by skilled Amish craftsmen. The Ark is an architectural and engineering wonder containing three decks of world-class exhibits and the most 'authentic' full-size Biblical replica in the world. And much to our surprise the onsite restaurant serves some of the best home cooked buffet style food, serving up to 1500 people daily. www.arkencounter.com
Kentucky is located in the Eastern Central part of the United States and Lexington easy to reach from New York with a 2-hour direct flight, twice daily. www.bluegrassairport.com
Until next month, from The Kentucky Castle.
Love, Ingrid
https://www.facebook.com/ingrid.lemme
Author and Ambassador for www.Seven-Stars.com