Dentist, Professor, Pianist, Writer, Golfer And A Good Montauk Friend, Richard F. Jarmain.
Feb. 29, 1940 – March 1, 2018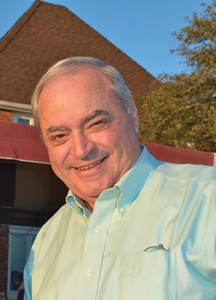 My husband Cam and I first met Richard Jarmain about five years ago when our mutual friend Aster Stein asked us to join them for dinner at a local restaurant in Montauk. At first, we didn't think we had anything in common with Richard being a dentist and a pianist, but when we found out later that we had other similar interests, our friendship grew deeper.
"Richard became my neighbor in the early 80's" Aster informed me " when a cottage built by his parents Franklin and Lucille Jarmain was moved from their Wavecrest property to its current location." "My late husband John and I welcomed him into the neighborhood and watched him make additions to the house so that his family can enjoy summers in Montauk and winters in New Hyde Park. In 2009, Virginia Erario, his late aunt and my then mahjong partner from the Senior Nutrition Center, introduced me to her nephew, the chef, who loved to invite family and friends over for Sunday dinners."
Richard loved to share his newly, concocted recipes with his guests. None of us minded since we all loved to eat. What made the dinners special was his presentation of his five course meals of home made soup, pasta, roasted duck, broiled lamb, porter house steak, newly caught salmon, locally grown vegetables, salad dressing made from scratch, his dinner rolls and desserts followed by after dinner drinks and freshly brewed coffee.
Richard's entrees were served on fine china, three sets of glasses, (Richard was also a connoisseur on wine) shiny silverwares, cloth napkins and white laced tablecloths. It was as if we were dining with the Carrington millionaires, portrayed by actors Linda Evans and John Forsythe from the 80's television series called "Dynasty." Even though Richard slaved in the kitchen all day, he insisted on serving his guests himself to make sure everything was perfect and all were having a good time. Aster and his, best friend, Igor Solano often helped in cleaning up.
Cam saw Richard more often. He told me: "Richard loved being a Day Trader and would often talk about his latest trade on the market." "He also loved golf and was the fourth player in our group consisting of Peter Bogetti, Nick D'Agostino and I." "Many times when driving to the North Shore, we would often get into heated conversations regarding politics, but when we reached the greens, all was forgiven and forgotten." "He was good for the group because he made us think before each shot so we could win tournaments and we did."
As a fellow writer, Richard and I earned mutual respect for each other. He wrote mostly fiction, long novels which took years to complete. I wrote non fiction, reviews on current events and written only days before going to print. I thought his style was more difficult. He disagreed. His POETS Modern Poet "Human Exposure" book was his best I thought, because I could feel all the emotions he felt from his life experiences. I especially love the note he wrote : "To the feeling of love, I am forever yours," and "To all who enjoy my writings, "Thank you." Signed, RFJ."
On Tuesday, February 27, Cam and I took Aster and Richard out to lunch to celebrate his 78th birthday. After he made a wish and blew out the candle on top of his Tartufo desert, I jokingly told him that he was technically only 16 1/2 years young since he was born on leap year, February 29. That lunch would be our last with Richard. Richard died in his sleep at his Montauk home on his birthday, March 1, 2018. We knew he had some health issues but he rarely complained.
The Jarmain family received visitors last March 5 at the Fairchild Sons funeral chapel in Manhasset. Funeral Service was held the following day at Notre Dame Catholic Church in New Hyde Park followed by a burial at the Maple Grove Cemetery in Kew Gardens. Richard is survived by his sons Brian and Scott Jarmain, brother Robert, sister Therese Jarmain and seven grand children.
A celebration of Richard F. Jarmain's life will be held at St. Therese Catholic Church on Saturday, August 11, 2018 at 10:30AM.