Aboard MS Eurodam through the Panama Canal!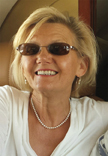 Lots of people, especially seniors, have the Panama Canal on their bucket list; which was definitely true for my husband. As far as I was concerned, I was a little less excited until I saw that the Holland America Line offered a 27 day "Back to Back" repositioning cruise with full transit of this engineering marvel and up the West Coast into Alaska. And Alaska was on my bucket list!
          We'd spent the holidays on MS Eurodam and fallen for this wonderful ship and its crew. Besides, when Marcus and I first met we'd spent time in Puerto Vallarta, Mexico together and were looking forward to seeing the place where we stayed and PV's Old Town that we so loved. However, embarking in Fort Lauderdale and disembarking in Seattle would take some finagling, considering flights and packing for a subtropic as well as a cold climate. Have I mentioned that I am the one who does all the research and then puts it all together? It takes work, but I am one of those restless souls, forever the adventurer, and was fortunate to have found my match.
          The itinerary of our 27 day back to back cruise included the ports of Cartagena, Colombia; Panama Canal (Full Transit); Puerto Caldera, Costa Rica; Acajutla, El Salvador; Puerto Quetzal, Guatemala; Huatulco, Mexico; Puerto Vallarta, Mexico; Cabo San Lucas, Mexico;  San Diego, CA; Victoria, BC, Canada; Vancouver, BC, Canada; Seattle, WA; Stephens Passage, AK (Cruising); Juneau, AK; Glacier Bay National Park & Preserve, AK (Cruising); Icy Strait Point, AK; Sitka, AK; Ketchikan, AK; Victoria, BC, Canada — no kidding! Besides, the price was right for a trip of a lifetime! However, I can't put our entire journey into one story, and will tell you all about Alaska in our next issue. During our voyage we visited several colorful Latin American ports of call as well, but none compared with the excitement of us passengers who witnessed the day long canal transit from the Atlantic to the Pacific Ocean — or while face-to-face with the frozen blue giants of Glacier Bay while sharing a cup of HAL's hot Dutch pea soup.
        We can't describe the feeling of what it's like when you come on board and about a third of the staff recognizes you, which certainly adds to the warm welcome that HAL's crews are so famous for. Once again we'd booked a stateroom on the 10th floor overlooking the ship's bow that would allow us to watch the 50 mile isthmus that connects North and South America, dubbed as the "Crossroads of the World". By navigating the canal, ships avoid having to travel an additional 9,000 miles around the southernmost tip of South America to get from one ocean to the other.
          MS Eurodam's cruise entertainment director Stephanie explained during one of her shows that ships are charged a toll to pass through the canal based on their weight, and HAL's fee for MS Eurodam was $460,000! WOW! The smallest amount was 36 cents, paid by a man named Richard Halliburton in 1928 who wanted to swim across. Ships need to be slowly and carefully navigated through the canal through a series of locks, a process which takes about eight to ten hours.  The canal is used by vessels from all over the world, with a majority of trips being made by ships traveling between the East Coast of the US and East Asia. The weather was beautiful and the Captain had opened Deck 5 so we could experience the full transit straight forward with a chilled drink in our hands. We cheered when we passed the Puente Atlanico Bridge at Colon, Panama, located on the Atlantic side of the canal and of course later the Bridge of the Americas on the Pacific side.
        During the 8 to 10 hours while MS Eurodam was being dragged (or pulled) through one of the "7 Wonders of the Modern World" one would certainly get hungry. Not to mention that with subtropical temperatures these Northerners really felt the need to cool down and get into the air-conditioned ship. Gazing at lunch over Gatun Lake from our window in one of the Main Dining Rooms was priceless! Created in 1913, Gatun Lake is a key part of the Panama Canal, providing the millions of gallons of water necessary to operate its locks each time a ship passes through. At the time of formation, Gatun Lake was the largest human-made lake in the world.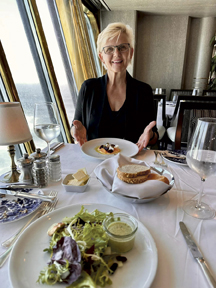 The impassable rainforest around the lake has been the best defense of the Panama Canal. Today these areas remain practically unscathed by human interference and are one of the few accessible areas where various native Central American animal and plant species can be observed undisturbed in their natural habitat. At this point I must mention the excellent cuisine and the incredible dining room staff; ladies and gentlemen serving ladies and gentlemen (Suta, Kadek and Suar just to mention a couple of the stars).
          By the way, later up the West Coast, one of HAL's Culinary Council Members, Celebrity Chef David Burke, came on board and we all had the pleasure of watching him cooking live on MainStage. He trained at the Culinary Institute of America
and has been featured on Iron Chef America and Top Chef Masters. Chef Burke, while on board the MS Eurodam, added contemporary flavors and signature recipes to the Pinnacle Grill, an extraordinary restaurant indeed. We had the pleasure of meeting him personally over breakfast one morning at The Lido and then again during the daily morning Coffee Talk with Stephanie Summerville at the Ocean Bar. I knew through Christopher Hewitt that his brother Shawn Hewitt worked for years with Chef David Burke. I am sure you all remember the late Jimmy Hewitt, one of Montauk's legends and longtime owner of the Shagwong Tavern, and his sons Christopher and Shawn. When I asked David Burke about his time with Montauk's very own Celebrity Chef Shawn Hewitt (SelRrose) this is what he had to say:
https://youtu.be/3xVJeoEfKxs
          Another interesting person we got to meet onboard was Fr Edward Pracz, 'Director Krajowy', of Stella Maris, Port Chaplain in Gdynia, Poland. It's true there's a daily Catholic ( and a non denominal ) church service on board all of HAL's ships, and my husband, who enjoyed his service, attended daily.  Stella Maris – Apostleship of the Sea, is the largest ship-visiting network in the world.
          I loved the Spa and of course the Salon and the beautiful people that work there. With several weeks on any ship one eventually will need either a hair trim and/or a pedicure. But because most guests prefer to get their beautifications done during Sea Days, one better make these reservations in advance. The GreenHouse Spa is a must. Its waters come straight from the ocean, are filtered and heated and are healing. I am a sucker for Thalassotherapy, which involves the therapeutic use of seawater. It is a common therapy in Europe, particularly in Germany and France. The late Nick Monte of the then Gurney's Inn Resort & Spa in Montauk was one of the first in the country implementing Thalassotherapy in the SeaWater Spa!  When it comes to HAL's drinking water, it's great! The onboard desalination process on these cruise ships removes salt and impurities from sea water, rendering it some of the best and purest drinking water worldwide. And a tip for adventurers like you, I had gotten one of these Cincha Travel Belts, and it really did what they promised on Shark Tank. They are snug and safe!
        During our 27 days on MS Eurodam we got to meet many of her staff on a more personal level. When asked, we learned about the countries they came from, their families at home and the length of their contracts. Many of the them sign up to see the world, and HAL is said to have a great reputation as employer. Holland America Line is celebrating all year long their 150th Anniversary, and Captain Mark Trembling is one of the most personable we have experienced on our travels. Captain Mark Trembling would later in Seattle, cut the ribbon to open Holland America Line's Alaska cruise season with Miss Alaska, Jessica Reisinger, and Miss Washington, Regan Gallo – but that's all part of my next story.
          Until next month from Alaska!
            — Yours in travel, Ingrid
Escape From Paradise: www.EscapeFromParadise.net
www.facebook.com/ingrid.lemme         #EscapeFromParadise
Award-winning TV Host, Publisher, Travel Writer.
Ambassador for www.Seven-Stars.com & 15 Emmy awards www.aTasteofHistory.org
www.twitter.com/LemmeEscape         www.instagram.com/ingridlemme