April 2021
Airboating Florida's Everglades & Lazy River Gliding the Omni!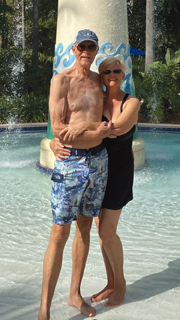 As much as we love Montauk, Marcus and I are adventurous and we are always looking forward to another exciting "Escape from Paradise."  The beach girl from Montauk and Marcus the mountain man, found each other on a dating site and got married five years ago and we were going to celebrate our anniversary with an airboat ride on the Everglades and a stay at a special place. Life is short, and the bucket list long.
We were told that the Kissimmee, Orlando area makes the perfect base for a wild Florida adventure, because the best way to explore the headwaters of the Everglades is via an airboat. We were looking for a hotel away from the hassle of the Disney attractions that Orlando is so famous for and found the Omni Orlando at Championsgate, a four diamond accoladed golf, spa and water-fun resort that would grant us an easy ride to the 'Real Florida' adventures. As we got closer to Championsgate and saw the Omni rise high behind it, we realized that we'd practically been in the neighborhood just about a year ago. We'd stayed at The Reunion resort for our 4th anniversary, but for a golf and spa retreat.
The four-diamond studded Omni Orlando, surrounded by 36 holes of championship golf, a golf academy and 15 acres of recreation, welcomed these new arrivals with their famous hospitality. Our crispy clean accommodations on the 9th floor, with stunning views of the pools, lazy river and golf greens were delightful, classy and appeared as if they had recently been refurbished.  In addition to walk-out golf, guests may enjoy here 15 acres of pools and recreation activities including an 850-foot lazy river and Orlando's only resort wave pool. It was spring break and the resort's activity guide announced all kinds of fun for the whole family. The resort is located just 25 minutes from the Orlando International Airport and 20 minutes from Disney World, Universal Studios and SeaWorld. Complimentary scheduled shuttle transportation is provided to the Disney theme parks.
'Wild Florida' was all the trill and fun we'd thought it would be, and then some. While they are mainly known for their airboat nature tours in the Everglades there was so much more to experience that we wished we'd scheduled a whole day for this Wild Florida adventure. Located on the beautiful shores of Cypress Lake, at the headwaters of the Everglades, about a good half hour ride from the Orlando and Disney area, this place is situated in an untouched 4,200 acre nature preserve, free of any development; 100% pure Florida wilderness, in the middle of nowhere. Everglades National Park is the third-largest national park in the lower 48 states and the only place in the world where alligators and crocodiles coexist. Wild Florida is owned and operated by one of Florida's pioneer families that still knows the meaning of southern hospitality.
After a walk on a long wooden path out into the wetlands we were welcomed by Captain Bob and hopped excitedly on his boat. We had joined two larger families with children and teens from Northern Arizona on their spring break on the boat with their permission.  The handsome captain explained why these airboats are capable of traveling at high-speeds and that these boats may provide both thrills and educational opportunities about Florida's unique ecosystem and wildlife dynamics, as well as ongoing conservation efforts. It's really interesting how we humans, or better, this human, reacts to
thrill. After seeing all these huge gators in Wild Florida's adjourning gator park, the simple thought that below the water/plant surface we were riding on where potentially gators are waiting to snap at their prey, was enough for my adrenaline to pump overtime. And sure enough, we were fortunate to witness a large gator catching his meal in the wild. At Wild Florida, you may also visit more than 200 native and exotic animals inside their Alligator Park, eat unique swamp delicacies served at the Chomp House Grill, and get wild with the animals during one of the interactive animal encounters and Drive-thru Safari Park. The Drive-thru Safari Park was the bomb! Hand feeding the giraffes was an amazing experience, so was the Emu that came up to the car and kept insisting on sticking his head in my passenger door window and wouldn't retreat. www.wildfl.com
On the way back from Wild Florida we took the road through the charming historic town district of Kissimmee.  Kissimmee was first settled by former confederate major J. H. Allen, who was a riverboat captain; the town was incorporated in 1883. His steamboat, the Mary Belle, was the first cargo steamboat on the Kissimmee River. Known early on as the home of the country's first bars to accommodate ranchers on horseback! Here life seems to be a little less hectic than in Orlando and with all its amazing history and the major parks practically in their backyard it seems like an interesting place to stay and discover. www.experiencekissimmee.com
Back at the Omni Orlando Resort at ChampionsGate, with temperatures now soaring over 80 degrees, we jumped into our bathing suits, grabbed a couple or floating donuts and joined the fun crowd in the Lazy River.  From large pools and lazy rivers to water slides, whirlpools, Orlando's only resort wave pool, and a formal pool with private cabanas and jacuzzi, for adults only, it was hard to choose from so we tried them all. All the cabanas featured ceiling fans, lounges, flat screen TV, WiFi, and a stocked mini fridge. I, as a mother and grandmother, can assure you that you will have no problems getting your kids to leave Mickey and Minnie behind at the park when you remind them that there's a fun water-world waiting for them at the Omni hotel. After a couple of fun hours of pool hopping where we met people from all over the US on spring break, we finally took showers and got dressed for dinner at David's Club Restaurant. www.omnihotels.com/hotels/orlando-championsgate
David's Club is a 'spirited' high-end sports bar and restaurant with a spectacular resort view, named after development partner David Mitzner who passed away in 2016 at the age of 101. —In 2004, David co-authored his autobiography "Nesim (Miracles) All Around Me," which chronicles his amazing life's journey. The book was updated on the occasion of his 100th birthday in 2015. It's an incredible story and so worth the read! —The two of us enjoyed a relaxing anniversary dinner. Ms Shannon was our server and Ms Sierra the restaurant manager. Chef Chris presented a fine seared Florida grouper, light and full of flavor, over a base of butternut squash purée, broccolini and crowned with blistered tomatoes. I went for one of my favorite Southern staples, shrimp and grits (pimento) with a Cajun emulsion and a delightfully spicy piperade. Our dessert was a piece of cheesecake for 2 with a luscious, fresh, dark red berry sauce.  We truly enjoyed our stay, but my husband deeply regrets that he didn't bring his golf clubs.
Until next month from another interesting location.
~ Love, Ingrid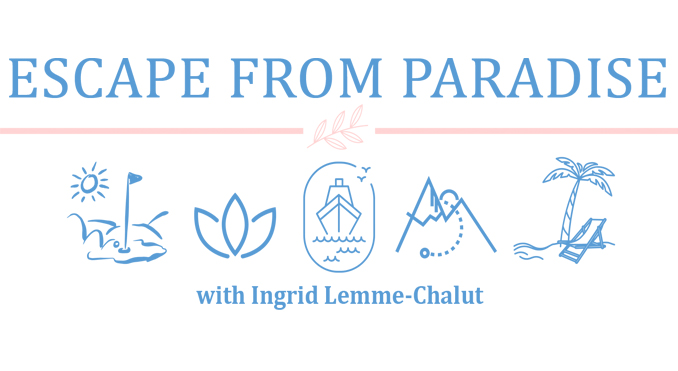 Escape From Paradise: www.EscapeFromParadise.net
www.facebook.com/ingrid.lemme      #EscapeFromParadise
Award-winning TV Host, Publisher, Travel Writer
Ambassador for www.Seven-Stars.com & 15 Emmy awards www.aTasteofHistory.org www.twitter.com/LemmeEscape       www.instagram.com/ingridlemme