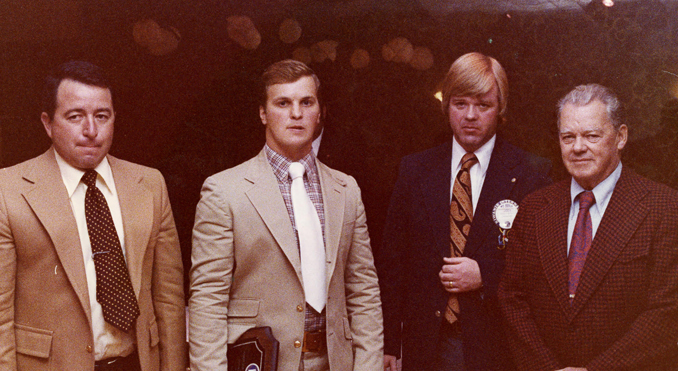 …by Sue Giustino…
Charles "Charlie" Morici, this year's Grand Marshal for the 58th Montauk Friends of Erin St Patrick's Day Parade has a long history here in Montauk. Join us on March 22nd, when honoree Charlie Morici wearing the traditional top hat, tails, and sash while sporting an Irish shillelagh leads the 58th annual Parade through Montauk.
Charlie's parents came to Montauk in 1948 and never left. Charlie grew up with his parents and sister, attending the Montauk School and East Hampton High School. After High School, at the age of 17, Charlie joined the United States Air Force. He served 9 years as Airman 1st Class working as an aircraft mechanic. While in the service he married Betty Rose Martell, another Montauk resident.
He and Betty were married in 1958, and had four children. After 61 years together, Charlie's wife Betty passed away in June; during our conversation, I could still hear the sadness in his voice as he spoke of her.  Charlie and Betty raised their children, Chucky, Debbie, Patty and Kenny here in Montauk. He is now a Grandfather of three. Three of his children, Chucky, Debbie and Patty still live here in Montauk, while Kenny has moved away to Baldwin where he and his wife raise their two children.
Not long after working as a traffic control officer for East Hampton, while on leave from the Air Force, he decided to leave the service and join the East Hampton Police Department. In 1978 as an officer, he earned Police Officer of the year. Through the years, Charlie worked his way up the ranks; to Detective, then Sargent, to Detective Sargent, and finally Lieutenant.  In 1986, after a long 21 year career, Charlie retired. However, he continued serving our community with the Montauk FD.
Charlie has been serving Montauk with his involvement in the Fire Department since 1965.  "I love the community, that's why we all do it, that's why we are all in the MFD- It's a community effort!" He told me during our conversation. Charlie started out in Engine Company 2 and continues to be a part of the MFD as a member of the Fire Police Company 6, as well as the Ambulance Squad making about 100 runs a year.
In addition to his service on squads, Charlie has received many commendations from the Montauk Fire Department over the years, as well as serving on several committees. Over 50 years of continuous service; even earning fireman of the year in 1976 and being named Driver of the Year for the Ambulance Squad many times, most recently in 2017. Approximately five years ago he received an award for making 1500 ambulance calls.
It's apparent that serving his community is important to Charlie. He has dedicated decades to the United States and the entire EH community.
Congratulations Charlie – the Friends of Erin are thrilled you've accepted their invitation, you deserve it, and they hope you'll enjoy the festivities.