Flower Power
March typically feels like the longest, most rainy and gray month of the year, the month we crave escape to sunshine and warm water. If March isn't your month to escape for a mood-lifting respite from the end-of-winter cloud cover, there is an immediate alternative for an uplifting boost. Flowers!
It seems so simple, yet we often overlook the power of flowers. Perhaps summer farm stands and farmers markets remind us to bring home a bouquet along with our colorful fruits and organic vegetables. Flowers should not be limited to special occasions or seasons. If they make more regular appearances in your home you may be infusing your life with a little more happiness on a daily basis.
For a delightful experiment, take a walk or run errands with a bouquet of flowers and observe the reactions of those around you. Almost as cute as holding a puppy, you will see smiles, answer questions and may stop and chat over something so beautiful that is a simple symbol of joy.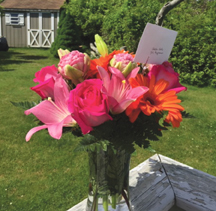 Flowers historically signal the end of a long winter in colder climates (think Cherry Blossom season, colorful tulips) and we are wired to link the blooming of flowers with an abundance of food and warmer weather. The rainbow of flower colors does align with the healthiest diet of colorful fruits and vegetables, signaling health and vitality.
While our instincts then and now are likely subconscious, our brain is flooded with happy chemicals like Dopamine (our reward chemical) Oxytocin (the bonding hormone) and Serotonin (the happy chemical) just from seeing flowers.
Think about just a few of the messages flowers communicate; celebration, caring, gratitude, beauty, impermanence, surprise, and nurturing. We get to admire the beauty of flowers while knowing they will be with us for just a brief span of time. Have you ever NOT smiled when receiving the gift of flowers?
We bring flowers as gifts and surprise one another with what can feel like a mini extravagance since we often overlook keeping flowers consistently around us. Simply observing flowers reduces our stress and negative feelings. When they are present around us we are more positive and our connection with nature and sense of well-being is strengthened.
If we move away from linking flowers to formal events, restaurants and office spaces we move closer to harnessing the power of flowers in our home and for those around us.
If keeping flowers around you can make your day just a little bit better, make you less anxious and irritated, be sure to beautify your space regularly with a little flower power all year long.