by Sue Giustino 
Owner, Kristin Vincent welcomes Chef Hewitt and his creative culinary craft to her chic Montauk eatery, Sel Rrose, located at 4 South Elmwood Avenue. Opening in June of 2019, her introductory season was quickly followed by the ups and downs of COVID-19 restrictions.  Eager to build upon its success, Sel Rrose will continue serving many of their signature dishes, as well as an array of nightly seasonal specials.
Entering the restaurant transforms you to a dream-like location, possible the South of France. The airy, light and comfortable décor is welcoming; each room has its own character and adorned with vast windows to the outside.  The large marble topped bar at the entrance offers seats for dining, or cocktails and small bites. Sam, your bartender is ready to create one of his specialty drinks or pour a glass of wine. Their selection consists of small production, family-run estates throughout the world, all made organically, sustainably, and as naturally as possible.
The first room to your left of the bar is reminiscent of the most luxurious canopy bed one could ever imagine. Only instead of a bed in the middle, the room is lined with comfortably upholstered benches, and dining tables. The canopied ceiling draws your eye upward to a high sky-light providing additional natural lighting, or a view of the sparkling Montauk sky at night.
The next room, where we dined, has the two glass garage door walls which open- weather permitting- to the outdoor garden dining patio. Overhead, the original industrial lights from the Montauk Playhouse are hung from the white beamed vaulted ceilings. Painted on the remaining walls is an enlarged design of the room's floral benches, overlaid with white lattice; all creating a lovely outdoor garden-like experience. (see above)
After taking in the ambiance, it's time to peruse the cocktail and wine lists. Mixology at its finest, each cocktail offers a unique blend of liquor, juice, and/or added flavors to create a tasty drink. We enjoyed The Fountain, one with gin and the other with vodka- blended with lemon, grapefruit, pink peppercorn syrup, and hopped grapefruit bitters.
Blending vodka, blackberries, simple syrup and lemon, The Spring & Delancey is another fine creation.  And the Hunter; a mix of Mezcal, ginger syrup, mesquite honey, lime and grapefruit becomes a smoky delight.
As we sipped on our cocktails, Chef sent out a tower of Montauk Pearl Oysters, Little Neck Clams, and Shrimp Cocktail all keeping chilled upon a bed of shaved ice and accompanied by lemon slices, cocktail sauce, horseradish, and a blended vinegar. The crispness of the shrimp,
natural brine flavor of the oysters, and the salty juice of the clams is evidence of the obvious freshness of this delicious and eye pleasing presentation.
From the list of Small Plates, we sampled the Chicken Liver Mousse served with crostini and balsamic marinated onions. The fresh, unmasked liver flavor and texture was balanced beautifully with the gentle sweetness of the onions and the crunch of the thin bread. Another fine choice is the sharable
Hummus Plate; adorned with warm nan bread triangles, pickled baby carrots and curry cauliflower, feta cheese, and a dill spread; this homemade hummus dish is a must.
From the Plates section of the menu, our wonderful waiter Sean suggested the Braised Short Ribs and Six Hour Brined Chicken, as well as two of the evening specials; the catch of the day-Tile Fish,  and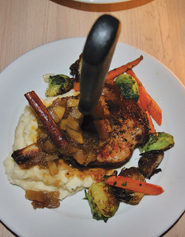 Brined Pork Chop. Each dish is presented with a beautiful arrangement of fresh ingredients and an array of savory sides.
The natural flavor of the tender Short Ribs is accented perfectly by the sweetness in the vanilla sweet potatoes- which are unbelievable! Accompanied by roasted baby carrots, beans, celery, and pearl onions, the dish is memorable. If you enjoy a thick, juicy, flavorful Pork Chop, then this is how you want to eat it.
The perfectly cooked brined pork is topped with a splash of fresh chunky apple sauce, and surrounded by roasted brussel sprouts and carrots, with a side of mashed potatoes. Tile Fish was the 'Catch of the Day' and was presented with a light garlic and herb sauce and served with tomato, lemon, capers, and a delightful cauliflower mash.   Finally, flavorful Six Hour Brined Chicken is stuffed with seasoned goat cheese adding a sharp smoothness to the gentle chicken flavor, and is served with roasted carrots and brussel sprouts. Intrigued by the offering of a side of Chickpea Fries, we had to taste them. A light crisp outside with a soft center and served with a lovely dill dip, these fries are a real treat.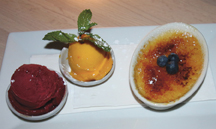 House made desserts are available for those who enjoy a little 'sweet' to wrap up their meal. We had the Light Ginger Crème Brulee topped with a thin crisp layer of perfectly caramelized sugar, and a side of raspberry and mango sorbet.  Be sure to ask your server for the evening choices.
In addition to our selections, the menu offers many additional choices including: Soups, Salad, PEI Mussels, Linguini with Fresh Clams, a Lobster Roll, Sel Rrose Burger, and a 'McRib' sandwich. We were fortunate to also enjoyed Chef Hewitt's New Year's Day Brunch, complete with delightful 'brunch' dishes which were quite delicious. Be sure to check out the complete Brunch menu being served on Sundays- Sel Rrose will be open for dinner Thursday through Monday.  https://selrrose.com/reservations-1