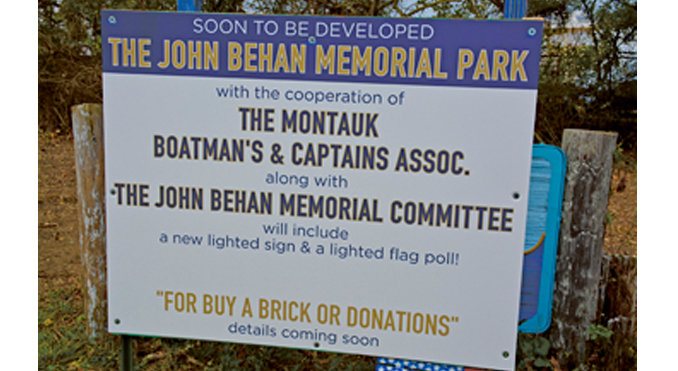 Buy a Brick for the memorial park located at the head of Montauk Harbor, dedicated to the legacy of Sgt. John L. Behan: November 11, 1944 – January 28, 2021
In Honor, Appreciation, and Recognition of Dedicated Military Service to the U.S. Marine Corps., where he served with the Sixth and Seventh Fleets before joining the First Marine Division for a tour of duty in Vietnam in 1965. Losing both of his legs in combat, he retired with the rank of sergeant. For his service, John was decorated seven times and was honored with the Purple Heart Medal, and the Conspicuous Service Cross, New York State's highest military honor.
Dedicated to serving his country, state and community; his years of service includes E. H. Town Supervisor, and New York State Assemblyman. Elected to the Assembly in 1978, he served for 18 years before becoming director of the State Division of Veterans Affairs until his retirement in 1999. His speech on the floor of the Assembly led to the creation of the first Assembly standing committee on Veterans Affairs, of which he became the ranking member.
Prior to starting his career in politics, John won multiple US Olympic medals in the javelin, shotput, discus, and as a member of the basketball team on the U.S. Wheelchair Olympics team in 1972 and 1976.
John Behan, American hero and Patriot, was a devoted husband to Marilyn, father to Jason, Jack, and Bridget, and grandfather to Jack, Harrison, Theodore, William, and Samantha.
A dedicated Montauk resident: business owner, avid fishermen, 1979 Grand Marshal in the Friends of Erin St. Patrick's Day Parade, and founder of the Friends of Erin Luncheon- he is an inspirational hero for all of us. Semper Fi
Bricks for the John Behan Memorial Park, are for sale until they are sold out. To purchase and personalize a brick, fill out the form which can be found at the website: https://donate.brickmarkers.com/jlb  and send with a check to the address on the form.