NOVEMBER & DECEMBER BIRTHDAYS
I love the holidays, especially during Thanksgiving. It makes me appreciate how blessed we are to be living in beautiful and peaceful Montauk, where the seniors are well loved and respected.  I liked the Center's décor in November, surrounded by paper leaves of gold and brown, scattered throughout the walls, while having the special lunch of sliced Turkey, mashed potato with gravy, and string beans.
The young at hearts, born in November are Gladys Butler, Jean Ruggles and Maria Davis. One special guest was Pastor Bill Hoffmann, from the Montauk Community Church, who came to greet, the proud, 95 years young, First Grade Teacher to many locals, Jean, a very Happy Birthday. My husband and I made sure she came to celebrate, by picking her up and bringing her back home.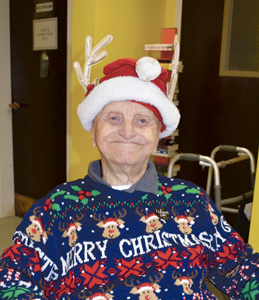 When December arrived, each senior made their own Christmas décor, with their names written on the round bulb, to hang on the Playhouse's Holiday tree, located at the entrance lobby.  Thank you, Executive Director, Therese Jarmain, for providing us with plastic eyes, colorful string, ties, multi colored paints, glue and glitter materials to make reindeer figures to hang them on the Center's own tree and for all the gifts you handed to each senior so that no one went home empty handed. In return, the seniors handed her, Chef Don and Assistant Kaleb a small token of their appreciation.
Hard working volunteer and long time, member of the Board of Director, Aster Stein who's birthday happens to be on Christmas Day, enjoyed egg nog, pigs in a blanket, spring rolls, and roast beef, mashed potato, gravy and greens, plus her own special, made to order, carrot cake along with the two, log shaped holiday cakes, to share with her peers. After singing Happy Birthday, Leon Day, a St. Therese choir member, lead the group, by singing "Silent Night" which put everyone in a festive mood.
Hoping that 2023 will be a healthy and a happy one!
The Senior Nutrition Center, located in the Montauk Playhouse at 240 Edgemere Street, is open Mondays through Fridays from 10:30a.m. – 2:00p.m.  Seniors 60 years old and over, their caregivers or guests are welcome for a donation of $3.00 and will be served at noon, a delicious, home cooked tasting, and a well-balanced meal, on real china and silverware. Thank you, Chef Don and the rest of the staff and volunteers for making it possible. 
The Center has lots of activities, including,  Meditation with Ms. Lydia on Mondays at 1:00 p.m., Chair Yoga with Ms. Leah on Tuesdays and Fridays at 10:30a.m., Balance and Healing Circle with Dr. Margaret on Tuesdays,  Mahjong on Wednesdays, Bingo on Thursdays with lots of prizes to win and Mexican Dominoes on Fridays, right after lunch at 1:00p.m. It is suggested to call at least 24 hours in advance to make sure there's enough meal for all. Please arrive by 11:30a.m. Transportation is provided daily except on Wednesdays.  There is also a visiting nurse Blanca to take your blood pressure on the last Thursday of each month.
For more info, kindly contact Ms. Jarmain at 631-668-1023 or e-mail her at mtksenctr@gmail.com.