BEACH VIEWS AND A SEA BREEZE!
by Sue Giustino
Looking for a beach-side snack for lunch or dinner? Sloppy Tuna at Nick's Beach is your go to cocktail, food, and entertainment location. Mid-week meals will be quieter, but if you enjoy a sun-loving crowd, weekends are fun too!
On a Monday night we arrived before sunset and were greeted by Joel, behind the upstairs bar, who offered us a few of his drink specialties. Overlooking the ocean enjoying a good-n-spicy Sloppy Poppy Bloody Mary, a glass of Rosé, and one of their refreshing frozen treats-the Mudslide, such a perfect way to end the day!
The Menu prepared by Chef Eric, offers a variety of seaside dishes both fried and grilled, including a complete list of burgers, sandwiches and wraps. A nice selection of appetizers is available including: fried calamari, clams or chicken, clams on the half shell, steamed or chowder, as well as guac n chips, wings, crab cake and more. The salads can be enjoyed with a choice of grilled chicken or shrimp, and there's also a children's menu. In addition, the chef offers a menu for a mid-week Prix Fix deal which
includes a drink.
From the appetizers, we really enjoyed the tender Steamed Clams which were soaking in a light broth and the crispy Coconut Shrimp served with a sauce that was a little sweet and spicy. Another one of our favorites was the Skirt Steak Tacos. The soft tacos stuffed with tender steak, shredded lettuce, cabbage, a special chipotle aioli and cheese were excellent. They're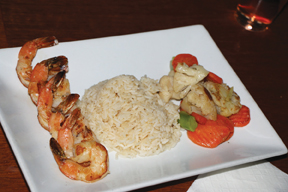 also available with fish and chicken choices.
In addition, we had the creamy Lobster Mac-n-Cheese which to my delight was prepared with ziti. The Fish and Chips were also excellent, crispy and tender. From the special Prix Fix menu, Joel brought us the Tequila Shrimp and Rice which were grilled tender and served with fresh vegetables. Many of the items on this menu are in addition to the regular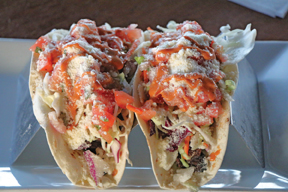 menu- so be sure to check it out.
As you're out and about this summer take a break from the sun and enjoy a sip or a bite up on the deck overlooking the beach, or at the front outdoor bar where you may find a band, or try your skill at giant Jenga or corn hole. Nighttime entertainment is also offered downstairs at the inside bar, so any time of day the Sloppy Tuna is a convenient fun spot!
148 South Emerson Avenue, Montauk         http://www.lisloppytuna.com/