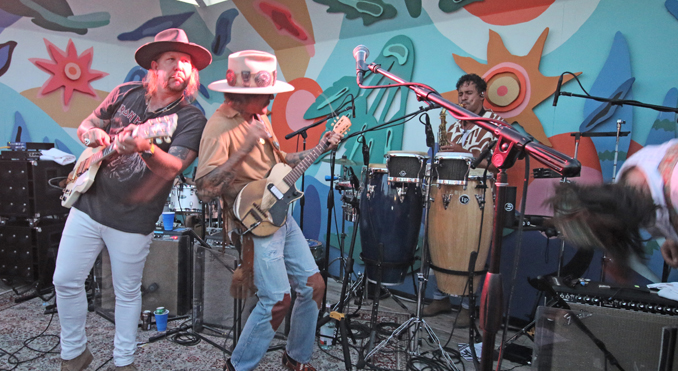 by Joe Pipolo
Aloft and lighthearted, I take to the open road, Healthy, free, the world before me.
~Walt Whitman Song of the Open Road
If you had the incredible good fortune of being at The Montauk Surf Lodge Sunday August 6th, or anywhere near Edgemere and Industrial Road, you were, knowingly or not, part of a cool historic moment. Not only was it our joy to welcome Donovan Frankenreiter back to town and our waters (he surfed at Ditch that morning), he brought a powerful good friend with him: Devon Allman. Devon is the son of rock and blues legend Greg Allman. Devon is also an accomplished superstar of his own. Both these giants have nearly a dozen albums each. They have performed some of the largest festivals on some of the grandest stages. These two very good friends chose Montauk to represent New York on their See It All American tour where they set out to play 50 shows in 50 states in 49 days. This is absolutely astounding. And if you were at The Lodge Sunday and witnessed the energy and passion this band delivers, you must be wondering how the hell they will have the emotional and spiritual and physical stamina to complete this task. They tore that space up. How cool that these guys graced our Montauk to be part of this crazy trip. I was exhausted by the time the sunset and stars arrived with the 10th song. Exhausted, but elevated. Truly. The performance was muscular and delicate. It was nasty blues grooves and a little chill funk. It was moody and fun.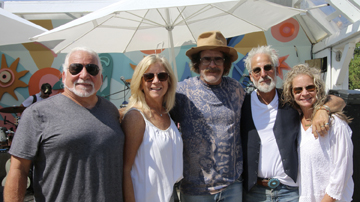 It is no small accomplishment to command the attention and reverence of a space like The Lodge on an August Sunday night. There are a lot of distractions. Some beautiful and natural distractions. Some shiny and cocktail-created.  Nevertheless, Devon, Donovan and their band of remarkables did not give anyone anywhere near Fort Pond a choice. (The Band:  Matt Grundy Bass, David Gomez Sax, John Lum Drums and Jackson Stokes Guitar) The folks on the stage were relentless and lush. And they were having a lot of fun. They gave each other so much space and respect. They fed and incited each other. They followed each friend's lead at times. The entire band did the same. The chemistry and collectivism on that stage was palpable. It seemed that even the sun was lingering over the pond, reluctant to set, wanting to listen to the soul of the stage. And that is what was so lovely. Everyone there felt it. Yes, we were part of history. But we were also mixed into a well needed soul salad.
We sat with Devon and Donovan early that afternoon in the back of their tour bus. Being in that narrow journey ship gives one a clear perspective of what 49 days 50 shows 50 states truly means. We talked about their friendship and about the mutual respect they have for each other. Devon said he and Donovan were "simpatico" and the perfect partners for this crazy adventure.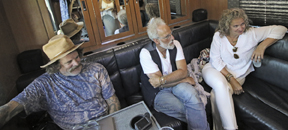 We talked about their families. And we talked about how touring and live performance is at the essence of who they are. As Devon said, the See It All tour is "fulfilling a dream," but is also an exploration. Both men have celebrated their 50th birthday. Their legendary producer Luther Dickinson also turned 50. You live to be 50 and you do not ignore when numbers line up like a rope pulling you in.
"There's no better way to see it all but by playing all 50 states in under 50 days and I couldn't think of a better friend to do something this crazy with," said Frankenreiter. "I first met Devon on the Allman Family Revival Tour and we always talked about doing something together. One morning, Devon called me and said he had this crazy idea about breaking a world record. As soon as he said 50 shows in 50 states in under 50 days I said 'Yes, let's do this.' And now, a year later, we are ready to see it all…or at least attempt to see it all!"
These two trust each other. So instead of simply hitting the road and performing each other's songs, they commemorated and ignited the special occasion by collaborating on an EP of co-written tunes. They are not individuals on the stage—they created something wholly new, uniquely blended.
This collaborative spirit came up again when we talked about how easy it is to lose the freshness of live performances under the enormous strain of the grueling nature of the road. However, Devon and Donovan agreed that it is their friendship and stylistic differences that bring the spontaneity and surprise to each moment on stage. They keep each other alert and excited and consequently the listener as well.  Devon said that he considered them "rollers rather than rockers." I hope I never unhear or unfeel what rolled through Montauk that day. Their EP, Rollers, was released in June.  Devon said, "These songs aren't rockers, they're rollers…the perfect soundtrack for you to roll from town to town on a summertime road trip." Allman added, "These songs' moods are very special to us. They are part muscle/part mystical." This self-reflection is a perfect way to sum up our experience at the Lodge: part muscle, part mystical. They did a lot of heavy lifting. A lot of lovely rolling.