by Debbie Dorsch 
BRITISH ARTIST LUCY SPARROW MAKES MONTAUK DEBUT WITH 'FELTZ BAGELS' A BAGEL BAKERY MADE ENTIRELY FROM FELT
This summer, internationally acclaimed artist Lucy Sparrow made her much anticipated return to the United States to unveil Feltz Bagels, an artistic homage to the city's legendary culinary delicacy and, the neighborhood bagel joints of the Lower East Side of Manhattan that made them famous.  The month-long event kicked off on August 2nd, and was hosted at TW Fine Art in Montauk.  Founder of TW Fine Art, Mike de Paola commented: "We are so excited to showcase Lucy Sparrow's newest felt creations at TW Fine Art Montauk. Lucy's playful hand-made works invoke a sense of nostalgia and magic, bringing joy to those that become a part of her felt world building."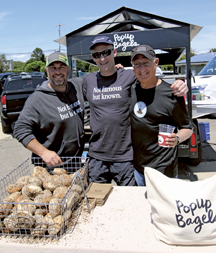 While Feltz Bagels was certainly the headliner of the opening event, it was only fitting that real edible bagels made an appearance as well.  Popular newcomer to the bagel scene, Pop Up Bagels was in the house and serving up their wildly popular warm doughy creations on site.  And being that you can't enjoy a bagel without a coffee, Montauk's own Beaches & Beans Coffee Co. was also in the house, serving up the best local cold brew coffee on the East End.
Feltz Bagels is not only unique and immersive, but will also allow visitors to buy their favorite lunch order, handmade in felt and served personally by Sparrow herself.  Sparrow will offer thirteen varieties of bagel – each hand-sewn and available filled or plain with a sewn selection of NY staples; choose from a poppyseed bagel with a schmear, a colorful rainbow salt-beef bagel or the everything bagel filled with pastrami and pickles.
Lucy Sparrow took the art world by storm in 2014 with the opening of her fully stocked felt Corner Shop installation in London's East End.  With lines wrapped around the block and wall-to-wall media coverage, the exhibit was both a massive success.  By 2022, she had created an additional ten fully conceptualized exhibits from New York to Los Angeles. Her work was unveiled in the windows of the Hermès flagship Store on Rodeo Drive in Beverly Hills, and she was also commissioned by the late HM Queen to create The Queen's Platinum Jubilee Lunch, a six-meter- art installation installed in Buckingham Palace's Grand Entrance Portico.
Sparrow says, "My work is always focused on community experiences and the everyday products that bring us together. There really is no greater example of this than the bagel bakeries of New York that have been nourishing much more than the stomachs of the city's residents since the late 19th century. I'm really excited to bring one of my installations to Montauk for summer 2023!"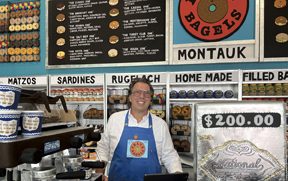 Mike de Paola, who orchestrated putting this month-long event together, is also the man behind TW Fine Art, with galleries in both Montauk and Palm Beach.  His art galleries are committed to presenting thought- provoking projects, featuring emerging, mid-career, and historically significant artists on a global scale. TW's commitment to fostering artistic talent and creating meaningful connections between artists and art collectors is the driving force behind their operations.  By fostering a close relationship with artists, the galleries strive to understand their creative vision and bring their works to life through engaging exhibitions and collaborations. In addition to their commitment to emerging artists, TW Fine Art is also proud to exhibit the works of renowned and established artists who have made significant contributions to the art world.
While the sun sets on summer, and Lucy takes her talents West to New York City for her next show this fall, Feltz Bagels certainly has left its mark on the Hamptons.  So much so, that I may have overheard a conversation at the event, that there could be a new bagel & coffee power couple staking their flag out East next summer…Pop-up Bagels and Beaches & Beans Coffee Co., anyone?  Cheers to a great fall, and hopes of a new coffee and schmear sheriff duo in town next season.