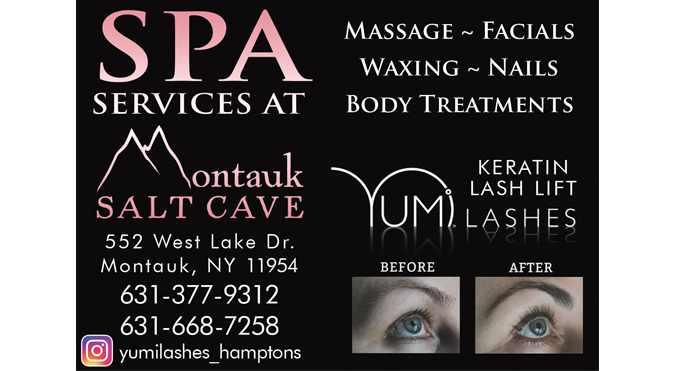 by Sue Giustino
The Montauk Salt Cave provides a healthy relaxing environment focusing on health and well-being. Whether you are looking for a complete pampering and wellness experience, or are just in need of a mani-pedi, the salt cave staff offers an array of options.
Arriving at the Salt Cave you enter an inviting space with Himalayan salt and spa products, clothing and jewelry- much of which is made locally. Then, depending on your treatment, you'll enter the cool, dimly lit cave, or the quiet, cozy spa treatment room in the rear of the building.
The intimate Spa services include facials, body treatments, waxing, nails, brow tinting, and even YUMI Lashes. YUMI lashes are not fake eyelashes! It is an advanced technique designed to boost and lift the natural eyelash without the need for fake eyelashes. With this technique your natural lashes are lifted up and filled with a special pigment infusion. As a result, you have thick, dark lashes that beautifully curve upwards. This creates the universally desired "open eye" look.
The spa room is designed for intimate one-on-one service, not a frilly busy spa with people coming and going. I've had my lashes, brows, and nails done and it's truly a relaxing experience. The YUMI lashes are great for that extra lift and tinting without a need for mascara, a fill in, or lashes falling out.
A dimly lit pink Salt Cave welcomes visitors to relax in the zero gravity lounge chairs while enjoying soothing meditation music and breathing in the healing salt. With your feet resting in the soft bed of pink salt crystals, covered with a cozy blanket, while the cool salt mist surrounds you, take a moment to soak in the beauty of the cave; the salt carved fireplace, and lamp sculptures. Then, just sit back, relax, and breathe!
The cave is made of Himalayan Pink Salt that is imported from the Punjab, Pakistan region of the Himalayan Mountains. It is said to be left over from the primordial sea, which left behind the salt deposits as it evaporated.
Halotherapy is an alternative treatment for a wide variety of ailments and conditions, such as asthma, allergies, inflammation, and even the common cold. The treatment offers a unique, natural therapy that allows you to get a sense of peace and serenity, while simply breathing in the beneficial, negatively-charged, ionized salt particles along with the 84 trace elements and minerals that the salt contains, such as calcium, potassium, magnesium, sodium, iodine, bromine, copper, selenium, and iron.
These particles help to clear all pollens, viruses, pollutants and toxins of the lungs and nasal passageways, which in essence works to treat and prevent illness. The salt also works to heal the body as soon as its negative ions enter the nasal passageway, which then travel through the respiratory tract and into the bloodstream to be dispersed throughout the body. It is naturally anti-inflammatory, anti-bacterial, anti-viral, anti-fungal, and anti-microbial.
In addition to halotherapy, they offer an array of holistic healing sessions and spa services. Now available in three locations; Montauk, Huntington, and NYC. Be sure to call the desired location directly to inquire about specific services offered as not all services are offered at all locations. See their website, www.montauksaltcave.com, their individual Facebook pages, or call (631) 668-7258 for further information and appointments.