…by Sue Giustino…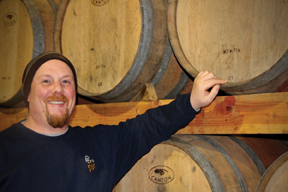 Eric Bilka recently joined the Pindar family and is excited to be a part of the Damianos family Vineyard. He's looking forward to working with the family and continuing to do great, fun and delicious things. With 500 acres, 17 grape varieties and producing 70,000 cases of about 23 varieties of wine a year, he has his job cut out for him.
At Pindar Vineyards, their award-winning wines are quite literally dreams come true. It was the dream of founder Dr. Herodotus "Dan" Damianos that helped create the winemaking industry on Long Island in the early 1980's. And that dream has, over 35 years, turned Pindar Vineyards into Long Island's best-known wine producer. Today Dan's children Pindar,
Alethea, and Alexander continue their dad's dreams. Being part of the complete operation and the LI wine community, at least one of them can be found at the winery at all times.
During his fourth week on the job, Eric agreed to talk with me about his new position. As we toured the facility we discussed his vast experience in the wine industry. Originally from Buffalo, he went to school for hotel and restaurant management. Working a variety of jobs in that industry for many years, Eric decided to make a change and relocated to LI in late 1999. He started working at Cornell Cooperative Extension under the guidance of Alice, making wine and conducting wine research. Unbeknown to be, they do extensive research for the wine industry.
From there he moved to Premium Wine Group where he was hands on in the entire wine making process for about 17years. At Premium he had connections with many LI wineries, working with and consulting for top winemakers. Eric is extremely knowledgeable, gaining much of his insight from his experiences at both Premium and Cornell. PINDAR offers him a new challenge as he'll be hands on from vineyard to bottle, start to finish for one winery rather than many. Fresh wines is what Eric makes, 'I don't like to mess with them too much'. Although he told me about the 'toolbox; full of tricks to refine and change the taste and flavor of wine, he likes to let the fruit do most of the work.
As we toured the facility, the enormity of it is quite amazing; especially since it's over 80% powered by a 156 Foot tall, 100 Kilowatt Wind Turbine that sits in the field aside the building. "This is a significant achievement for Pindar Vineyards. A symbol of our continued commitment to sustainable agriculture and renewable energy," – Alex Damianos, General Manager at Pindar.
In addition, PINDAR has pioneered the movement away from chemical fertilizers and pesticides with a massive composting operation and they utilize a geothermal heating and cooling system for its wine-making tanks -a zero-emissions system that reduces the use of fossil fuels.
In the tasting room their bottles are recycled, the light bulbs are efficient compact fluorescents, and the use high efficiency dishwashers use a fraction of water than their conventional counterparts. In addition, customers are encouraged to bring back their corks for recycling into corkboard and flooring.
"We are now proud to say that the process behind creating every bottle of wine at Pindar Vineyards is environmentally friendly and we continue to seek ways of protecting the integrity of this land for generations to come" – Pindar Damianos.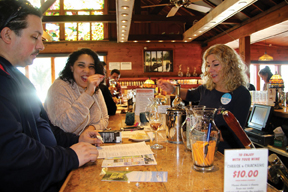 The tasting room is a large space with 2 tasting bars, and a display of their wines vary from light sweet dessert wines, to summer rose, steal or oak fermented whites, and a wide selection of reds. Some of my favorites include the Summer Blush which is a semi-dry Rosé made with Merlot and Cabernet Sauvignon grapes, with a unique subtle strawberry flavor; refreshing and simply delicious with light summertime foods. I'm an 'oaky' white wine drinker so the Sunflower Chardonnay, which is limited special reserve and completely barrel fermented in new French oak, is my favorite. It has lush vanilla and caramel notes, with a back palate of apple and pear; perfectly balanced with a bright splash of acidity, is it a magnificent pairing for lobster and summer salads. Although, while there Terry, one of their fully informed, friendly sommeliers, let me sample the 2016 Viognier. It has bright notes of melon and pear yet is also pleasantly dry. Pythagoras is a special red that was first crafted to celebrate their 15th anniversary of winemaking on Long Island. It's a Bordeaux blend rich with berry notes and a smooth finish; it's sure to please a wide range of palates. On the spicier side the 2014 Syrah has a dark berry, lavender and peppery nose with a smooth vanilla and toast finish. The 2014 Mythology Meritage offers a lovely blend of Cab Sauvignon, Cab franc, Merlot, Petit Verdot and Malbec.
If you like dessert wines they offer a variety. My favorite, is the Cabernet Port; Selected Cabernet grapes are aged in small oak barrels for two years to create this deep and hearty vintage Port with flavors of toffee, chocolate, and ripe cherry.
While speaking with Rose, the tasting room and wine club manager, I learned about some special upcoming events. Barrel tasting tours will be held in March on Saturdays- 3rd, 17th, and 24th – and on the Saturday before Mother's Day there will be a Macaroon Pairing event; reservations are needed for both. In addition there is live music every Saturday and regular facility Saturday tours start in April. Be sure to go to their website for complete event schedule:
https://www.pindar.net/Events/Event-Calendar