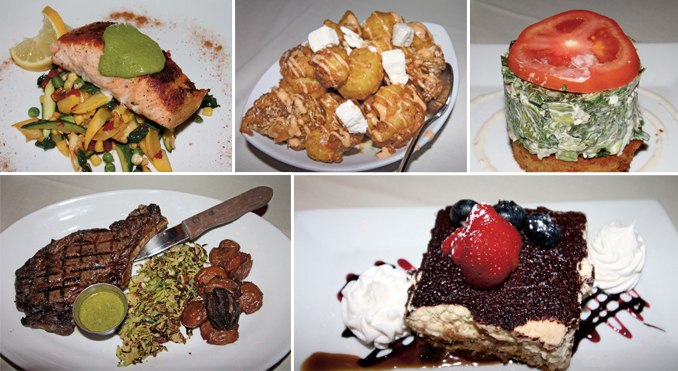 by Sue Giustino
If you've been in town, heading down South Euclid Avenue, you may have seen the renovations happening on the patio and in the adjoining building of Muse @ the End. Unfortunately, it's still not open, but it looks amazing and I can't wait to see the final outcome.
However, don't let that stop you from enjoying a meal in the original Muse @ the End Restaurant, where the food is delicious and the atmosphere welcoming and elegant. The pretty garden-like setting of the front patio is a perfect spot for a spring, summer or fall evening. Alternatively, you may choose the bar area for a casual gathering with friends at a high-top or along the long uniquely illuminated bar, or there's also a lovely low-lit dining area for a more intimate setting. Whether for drinks, apps, or a meal, Mario and his staff are always eager to make your dining experience perfect.
Although we've dined at Muse many times before, the menu has changed (as it sometimes does), and this visit offered a variety of new dishes that did not disappoint. Chef Ronnie, who has been working at Muse for three years, sent out quite a wonderful array of new treats for us to sample.
Our friendly waitress Amy arrived with our drinks which we enjoyed while snacking on the warm rolls and the trio of spreads; sundried tomato basil pesto, soft butter, and seasoned olive oil.  Juan behind the bar mixed us a few specialty cocktails, the Montauk Sunset with tequila, as well as a few refreshing Grapefruit Martinis mixed with gin or vodka, and grapefruit juice. The cocktail list is impressive, with extensive martini selections.
We probably should have refrained from eating the tasty roll, because the food that followed was not only delicious, but also plentiful. The unique BLT Salad (above) is prepared with a blend of hearts of Romain, bacon, and blue cheese, perched on a crisp gruyere bread pudding, and topped with an heirloom tomato; all with a Marsala gorgonzola dressing. This is just one of three salads, to which you can make into a meal by adding grilled chicken, salmon, shrimp, or sauteed lobster.
Elbow macaroni blended with just the right amount of white cheddar Boursin Cheese Sauce and topped with toasted herbed breadcrumb gratin, the creamy and flavorful Lobster Mac-N-Cheese is more than just a perfect comfort food, it's a treat that can also be ordered with scallops or lobster.  The Cauliflower Tempura Yuzu Curry Emulsion (above) is a cooked to a light crisp outside over the tender al dente chunks of cauliflower and drizzled with sriracha aioli and chunks of feta cheese; a lighter alternative to the usual buffalo cauliflower. 
My favorite was the Tuna Tartare Wonton Tacos. Prepared with perfectly chilled diced fresh tuna tossed with spicy mayo, in the light crispy wonton shell, and garnished with black tobiko and cilantro; it's an outstanding combination or flavor and texture. All of these appetizers were excellent, and there are many more to choose from. One that I've always enjoyed is the Mussels Ala Muse – it's worth a try.
The entrees range from a Black Pepper Glazed Grilled Pork Chop, Greek Chicken, or a few Steak options, to Lobster Pizza, to Tuna, Salmon, or Sea Scallops, to a choice of three pasta dishes…a bit of something for everyone.  Chef Ronnie sent us a lovely selection, beginning with the tender and daintily
Seared Giant Sea Scallops. Sitting atop a bed of creamy peas risotto with a drizzle of lemon thyme prosecco beurre blanc all garnished with watermelon radish and arugula, the presentation was as delightful as the flavor. Cooked to a perfect medium rare, the 20 oz Bone in Ribeye (above)nwas served with delicious sauteed shaved Brussel sprouts and bacon, crispy slices of Yukon potatoes, and a very tasty special arugula chimichurri. The Plancha Sun Dried Tomato Salmon (above) –
Plancha means "grilled on a metal plate"- was tender, light and flaky offering a salmon forward flavor and surrounded by a dainty spring vegetable medley of peas, sweet corn, baby zucchini and arugula pesto. The Pasta dish we enjoyed was the Fra Diavolo; a delectable bowl of linguini, mussels, shrimp and bay scallops cooked perfectly in a savory spicy marinara.  Along with these amazing meals, we enjoyed a glass off Oberon, 100% Cabernet Sauvignon- a perfect Napa wine.
There's always room for dessert! From their list which changes periodically, so be sure to inquire, we had Banana Bread Pudding, Tiramisu, (above) and Pistachio Ice Cream. Wonderful creamy flavors with just enough sweet to satisfy the palate – the extensive variety of desserts are sure to please all.
Muse @ the End is open 7days and offering a happy hour from 3-6pm at the bar. Check their website for details: https://museattheend.com/