Photos by Richard Lewin Professional Photographer (soniboy@aol.com)
I hope everyone enjoyed a safe, happy and healthy Holiday Season. Welcome to this edition of Montauk Fire Department Corner. December was a busy month at the Fire House.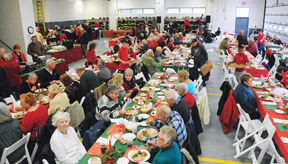 The Montauk Fire Department and the Montauk Point Lions Club joined forces again this year on Sunday, December 8th and co-sponsored the annual Montauk Senior Citizen's Dinner at the Montauk Fire House. Local youth organizations joined in the volunteer effort, as Montauk Boy Scouts Troop 136 helped the MFD Ladies Auxiliary serve the dinner. The air was filled with Holiday tunes sung by the Montauk Daisies from Girl Scout Troop 325 and Montauk's Sarah Conway. I would like to thank everyone for joining us in
celebrating Montauk's Senior Citizens. Free delivery (almost 200 this year) was offered for those unable to travel.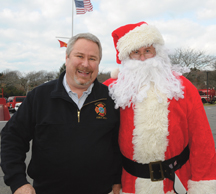 We emptied the Apparatus Bays again at the Fire House the following Sunday also…it was time for Santa, and for our local children (and adults) to see the equipment that makes the MFD work. Thanks, Santa for making the stop again this year.
As we do every New Year's Day, the Department held our Annual Installation of Officers for 2020 on January 1st. Commissioner of Commissioners Joseph Dryer swore in the three Chiefs, the Captains and Lieutenants of our six Companies, and the Secretary and Treasurer. Here are those honored and sworn in that day: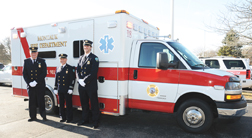 Chief David Ryan, 1st Assistant Chief Mickey Valcich and 2nd Assistant Chief Scott Snow, Treasurer Richard White, Jr. and Secretary Jeanine Miedzwiecki
Company No. 1: Captain Sean Tyrell, Lieutenant Eddie Stein
Company No. 2: Captain Tato Estrella, Lieutenant Peter Joyce, Jr.
Company No. 3: Captain Ken Glogg, Lieutenant Robert Gosman
Company No. 4: Captain Dustin Lightcap, Lieutenants Robert Mautschke and Alan Burke
Company No. 5: Captain Tim O'Rourke, Lieutenant Nena Stuckart
Company No. 6: Captain Ed Ecker, Jr., Lieutenant Harold "Herb" Herbert
Congratulations to everyone. We look forward to a great year again!
That's all for this month's edition. I hope everyone has a safe month!
              ~David Ryan, Chief, Montauk Fire Department