Photos by Richard Lewin Professional Photography (soniboy@aol.com)
Hello, and welcome to this month's edition of the Montauk Fire Department Corner. I hope that everyone had a wonderful Fourth of July holiday. It's been a great summer so far with nice weather, plenty to do, and everyone has stayed relatively safe.
Unfortunately, my first order of business this month is to report the death of Firefighter and Ex-Captain John Lycke. John was a very active member of the Montauk Fire Department for many years. He was a local Montauker who joined the fire department as soon as he could, right after his graduation from East Hampton High School. He was a member of Company No. 1  and rose to the rank of Captain of that Company. He was also a charter member of Company No. 3, and eventually became a member of our Company No. 6, the Department's Fire Police Company. While volunteering as a young fireman, John was also the Department's live-in "house man". In those days when an alarm was called in, the house man would dispatch the call by blowing the siren (12 times for a fire, and 2 times for an ambulance call). He would then stand by, making sure that the apparatus was sent to the proper address. John was a guy that everyone knew. He was very popular with firefighters from our surrounding districts when he served for many years as the chairman of the kitchen committee. John would throw legendary dinners attended by Montauk firefighters and our brother firefighters from other East End Departments. The dinners are still being talked about to this day. John set the standard of hospitality in the Montauk Fire Department that we still are proud of today. John will be greatly missed. On behalf of the Officers, men, and women of the Montauk Fire Department I would like to offer our condolences to John's family and friends. May he rest in Peace.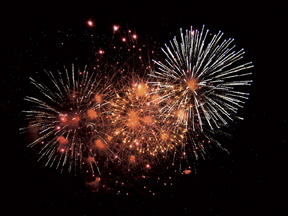 On Tuesday, July 4th the Montauk Fire Department stood by at Kirk Park beach in support of the annual fireworks display. I am happy to report that there was a very large turnout, the fireworks were excellent and that there were no fires or injuries.
Thanks to the men and women from the Department who staffed the event.
On Thursday, July 13th Emergency Medical Technicians stood by at the Montauk Lighthouse for the Lighthouse's annual fundraising concert. The headliner, Rufus Wainwright, put on a great show. Thousands of people were in attendance, and again, I'm happy to report that everyone had a great time and there were no injuries.
On Sunday, July 16th members of our EMS company and Company No. 6, the Department's Fire Police assisted with the annual Montauk Lighthouse Sprint Triathlon. The event had well over 600 entrants with crowds of spectators lining the course
. The swim portion started at 7:00 a.m. at Gin Beach, followed by a 13-mile bike ride that ended at the lighthouse, and a 5K run through Camp Hero It was a great event. Thank you to our EMS and Fire Police personnel who volunteered to keep this event safe.
Finally, I would like to mention that Dennis Whittam, Editor of Fire News, Ex-Captain of the Terryville Fire Department, and long time supporter of our Montauk Fire Department, passed away in July. Our condolences to his Family and friends.
That's all for this month's edition of the Montauk Fire Department Corner. Please enjoy a safe and fun August. I look forward to bringing you up to date about more MFD news next month.
                   ~ Ken Glogg, Chief, Montauk Fire Departmet
https://www.montaukfiredistrict.org