…by Sue Giustino…
To me, there's a welcomed sense of familiarity when we can visit our favorite establishments and experience the friendly service and excellent food we've come to expect, appreciate, and enjoy. Even though winter in Montauk may be slightly grey and unusually quiet, its unique charm is appealing any time of year. Inlet Seafood at the end of East Lake Dr. is open again and a perfect example of such welcoming charm with the always pleasant management, wait staff and bartenders who make it feel as if they've been waiting for you.
Upon ascending the stairs to the upper level you can't miss the sprawling bar with a spectacular view overlooking Montauk Inlet. Unless Juanita's big friendly smile from behind the bar blocks your view. We've spent many sunsets enjoying a cocktail and sushi at the bar and it never disappoints. On a rainy night in February we chatted with Juanita while waiting for our guests, sipping on two of her many delicious libations. The Saki-Tini prepared with cucumber vodka and Saki presented in a chilled martini glass adorned with julienne cucumber slices is quite tasty and refreshing. On the other hand, if you're looking to warm up or spice up your taste buds, the Spicy Grapefruit Margarita is just the thing. Of course they offer a complete bar including cocktails, saki, beer and wine.
In addition to the boat fresh sushi menu elegantly prepared by sushi chef Johnny, the appetizers are hard to resist. The Jumbo Shrimp Cocktail, Parmigiana Crusted Calamari, and Prince Edward Island Mussels are always favorites. Our choices this evening were the Tuna Tartar and Blue Claw California Roll, and from the special menu the Fire and Ice Sushi and Duck Tacos. With a boarder of avocado slices shaped into a heart and filled with Tuna, mango and a special sauce, the Tuna Tartar is as beautiful to look at as it is to eat. Fire and Ice was a cool and refreshing arrangement of fresh tuna wrapped in fluke, while the Blue Claw California Roll is simply fresh crab; both quite delicious. If Duck Tacos interest you, these are crisp, tender and moist, an amazing blend of flavor and highly recommended by our dinner guest Joe. As with the appetizers, each salad is fresh and unique. My favorite it the Warm Sunflower-Seed Goat Cheese but my husbands is the Grilled Portobello Mushroom.
Entrees include a variety of land to the sea choices; steaks, fish, pasta and an array of Sushi, Sashimi, Nori & Specialty Rolls. Always a favorite, the Tempura Codfish Fish Fillets and Chips are crisp, light, tender and irresistible, served with crispy fries and tartar sauce. A dish I have a difficult time resisting is the generous portion of gently seared Pan-Seared Sea Scallops perched atop mashed sweet potato puree & rainbow Swiss chard. Shrimp & Scallop Penne Pasta is blended with mushrooms, asparagus, and a basil pesto cream sauce prepared al dente with shrimp that snap and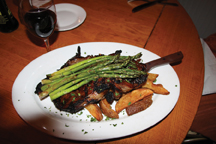 tender scallops. From the specials, the Marinated Ribeye with Steak Fries and Asparagus was delicious and perfectly cooked to order. As usual, Chef Larry Wallace presents incredibly tasty meals with a magnificent presentation.
Having dined many times at the Inlet, I never remember having room for dessert and tonight was no exception. However, Kim our friendly waitress seemed to think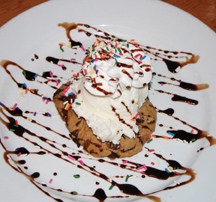 we needed to try some of the decadent specialties. Such a great idea! The table favorite was the dense, creamy Sea-Salted Caramel Cheesecake. My favorite, being a chocolate lover, was the homemade warm Brownie Sundae topped with a chocolate lace and ice cream. Although, the Chocolate Chip Cookie Sundae rounded out the tempting sweets and a lovely evening.
Seeking a breathtaking sunset, a spectacular lightening display or an excellent dinner with a view, Inlet Seafood never disappoints. Open on weekends, Friday through Sunday; Lunch is served 12pm-4pm and dinner starts at 4:30. For further information go to http://inletseafood.com/, or call 631.668.4272.