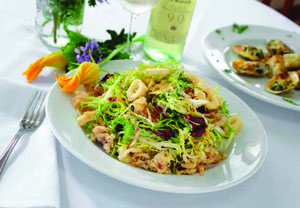 A favorite among locals and visitors, the Harvest is a place to dine for a special occasion or even no occasion at all.  With the friendly staff and consistently delicious food, people come back time and again- it's like heading home for Sunday dinner with the family.
Open year round, they have seasonal menu changes, nightly food specials, and are once again offering half-size portions, as well as great deals on mid-week bottles of wine. Family style Italian cuisine created by Executive Chef Jake Williams is inspired by the fresh Montauk seafood and homegrown produce.  Dining options include the cozy dining room, or the sophisticated bar and lounge each coupled with a view of the sunset over Fort Pond and their fully-functional vegetable and herb garden, which offers alfresco dining in warmer weather; this restaurant is truly memorable.
On a busy Saturday night in November, we enjoyed some of the seasonal dinner specials prepared to perfection by Chef Jake. Starting our meal with the Peconic Bay Scallops was delightful. This cornmeal crusted tender scallop plate served with crispy spinach, salsa, and Beurrre Blanc is one of our favorites. These blended flavors along with a variety of texture and temperatures is quite unique. The Black Sea Bass special, with melt in your mouth tri-colored Gnocci and root vegetables topped with a light sauce that compliments and accentuates the fresh fish flavor was also a perfect fall dish. Veal Saltimbocca is a treat that I haven't had in a long time. Chef Jake assembled a tender piece of sautéed veal with fresh sage and prosciutto, in a light sauce sitting atop a bed of fresh linguini resulting in an amazing dish.
Dining at the Harvest always starts with fresh crusty bread and grated cheese, accompanied by hot or regular olive oil. It's hard to have just a little, but to enjoy the rest of the meal, you'll need to limit yourself. In addition to these lovely fall specials, their regular menu has so many delicious choices. Some of our favorites are the Pancetta Shrimp Tuscan White Bean Salad and the Marinated Lamb Ribs [withsoy, ginger and garlic] for appetizers. The Calamari Salad withfrisee, white miso, red pepper Vinaigrette or the Caesar Salad with romaine hearts, croutons, and parmesan are two of the delicious salads. In addition, each dinner item whether it's an evening special, grilled pizza, pasta, or a main, each offers a variety of fresh, delicious flavors. Of course a fine Italian meal is never complete without a bit of sweet; the desserts from the flowerless chocolate cake to the homemade ice cream sandwich, are exceptional.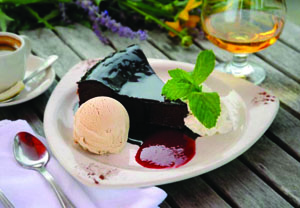 For hours and further information, go to their web site- http://www.harvestfortpond.com/