A 32 Day Cruise on Holland America's Rotterdam!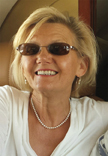 Who hasn't dreamt of a trip around the world? I, the senior that I am, am dreaming of a 180-day adventure around the world on an elegant cruise ship while savoring some of the world's top gourmet foods. I don't think that my dream will ever come true because I cannot imagine sharing a cabin with my husband for 6 months without him being able to golf, but I've added it to my bucket list.
However it didn't take me long to convince him that a 32-day cruise all over the Mediterranean, which included 3 nights in Israel and a day in Casablanca, would not really be such a long time — especially since we would hop on board the cruise ship in Civitavecchia, Italy after spending 4-nights in Rome; an incredible time we shall always treasure.
After we boarded the Rotterdam on October 19th in Civitavecchia without a hitch, we dove (after all the pizza and gelatos of Rome) into a fabulous fresh salad bar before we unpacked our suitcases and familiarized ourselves with the ship that would be our home for next 32 days.
We really had no idea of how this whole port-focused itinerary would work out but our first excursion the next morning put us on the right foot. We had booked the Discovering the Spirit of Olympia tour. Olympia is a UNESCO World Heritage Site that still lights the flame to start every Olympic Games up to the present day. Our incredible guide Ms. Niobe Drizou turned out to be one of the most fascinating and educational guides of all the tour guides we got to experience during the cruise. We had booked a day trip with the Shore Excursion Group that included a fantastic lunch at the Magna Grecia Farm and her driver brought us safely back to the ship before our departure to the next port.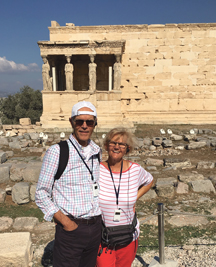 It really feels wonderful to come back to a neat cabin and always find a nicely made bed with fresh linens. All we had to do after a day of adventuring was take showers and sit down to relax over a sumptuous dinner and maybe catch a show afterwards while the steward and his team were turning the cabins down for the night. — The next morning we woke up to a glorious sunrise over Piraeus and just a couple of hours later climbed up to another designated UNESCO World Heritage Site, the one and only Acropolis of Athens. From up here we got to gaze down to the spectacular sites of the Ancient Agora, the Tower of the Winds, Herodes Atticus Theater, and the Theater of Dionyssos. The Acropolis, and the Parthenon in particular, appear to be the most characteristic monuments of the ancient Greek civilization.
The next day was a sea day where I started my birthday with a massage at the Greenhouse Spa while we were on the way to our next destination, Israel. How special, October 23rd was also a Gala Night and we got to celebrate my birthday in the grand traditions of cruising as guests dress to impress for special events on board.
I finally got to wear my new evening gown that I'd bought for that very purpose. Executive Chef Rudi and his team had put out a fabulous, clean five-course gourmet dinner that night, as they did every night, and our headwaiter Bazuki and his whole team presented me with a little birthday cake and a song.
Israel– fascinating, educating, and eye opening! We docked the first day in Ashdod and the following day for two nights in Haifa. We had booked three full days of excursions of Jerusalem, Nazareth, the Jordan River, Sea of Galilee, Mount of Beatitudes, and Capernaum, the old walled city of Jerusalem including the Christian, Jewish, and Armenian quarters, Mount Zion, Garden of Gethsemane, King David's Citadel, Via Dolorosa, Church of the Holy Sepulcher, Roman Cardo, King David's tomb, Wailing Wall / Western Wall, Temple Mount and Bethlehem and got to experience all until our heads were spinning. A passionate young Israeli woman was our guide for all three days, but I should mention that a Palestinian guide conducted our tour into Bethlehem, as it is under Palestinian jurisdiction and that we were given a mandatory stop for shopping as part of the itinerary in Bethlehem.
October 27th we docked in Limassol, Cyprus where we walked across the border, entered the Turkish-occupied district and visited Caravanserai Büyük Han and the Selimiye Mosque, and returned once again to the Republic of Cyprus. The Turkish invasion of Cyprus, code-named by Turkey as Operation Atilla, was a Turkish military invasion of the island country of Cyprus. In July 1974, Turkish forces invaded and captured 3% of the island before a ceasefire was declared. The Greek military junta collapsed and was replaced by a democratic government. In August 1974 another Turkish invasion resulted in the capture of approximately 37% of the island. The ceasefire line from August 1974 became the United Nations Buffer Zone in Cyprus and is commonly referred to as the Green Line.
October 28th we explored the remarkable Grecian towns of Lindos and Rhodes. We stood in the 535 feet tall Acropolis of Lindos and savored stunning views of the entire village as it tumbles below to the aquamarine sea.
October 29th in Souda Bay, Crete, Greece we joined a White Mountains Safari 7200 feet high in a jeep on a donkey path to visit a shepherd and his herd, and enjoyed a traditional Cretan lunch.
From here it was a whirlwind of adventures, one port after the next and one more beautiful then the next. Oct 30th sea day; Oct 31 Messina, Sicily, Italy with Castelmola and Taormina; Nov 1st Naples, Italy with Pompeii and the Herculaneum; Nov 2nd Back in Civitavecchia, Rome; Nov 3th sea day; Nov 4th Barcelona, Spain with Montserrat; Nov 5th sea day; Nov 6th The Best of Malaga, Spain; Nov. 7th Cadiz, Spain; Nov 8th Casablanca, Morocco; Nov 9th sea day; Nov 10th Tenerife, Canary Islands, Nov 11th Funchal, Madeira, Portugal!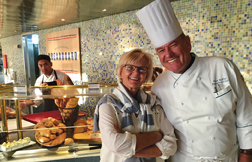 Funchal, on the island of Madeira was our last but not least beautiful destination port before we left for our final 7-day journey across the ocean. Without any storms to endure, we arrived safely on November 20th in Fort Lauderdale, Florida. Overall the crew was amazing, memorized our names, and was very attentive and timely, like breakfast in bed at 6 am. But that's only half of it, because our fellow travelers were amazing, too (Donnie, Teena, Sandra, Jennifer, Ann, Bob, Carolee & Warren, Scotty, Len & Verna, just to mention a few). Meeting great people who want to share their love for traveling with you is probably one of the coolest parts of cruising. It clearly didn't matter what the color of our skin was, our political affiliations, or any of the other noise – here everyone came together for one singular goal, which was to have a good time. We had an amazing time and now understand why people get hooked on cruising. www.hollandamerica.com
Until next month from another interesting location!
        Love, Ingrid
https://www.facebook.com/ingrid.lemme
Award-winning TV Host, Publisher, Travel Writer, Ambassador for www.Seven-Stars.com