In NY State Public High School Athletic Association Basketball, I know of no better Sectional Tournament than the Battle for the Gold Ball. The tournament is played at the Westchester County Center in White Plains, NY. It's considered by many to be the "Mecca" for High School Basketball throughout Downstate NY. On Friday March 6th at 9:37pm it was on fire. With Mt. Vernon barely escaping regulation with a 48-48 tie after 32 minutes of play in the Semifinals of AA Boys Basketball. The Knights were tied going into overtime after a full court pass and layup attempt by Jo'el Emanuel of Suffern High School fell short. The Knights beat Suffern in 8-2 in overtime and won 56-50. Mt. Vernon Senior Nazir Davis scored all of his 5 points in overtime. The Knights were led in scoring by Junior Xavier Riullano who had 15 points. Senior Captain Irvin Patrick was solid throughout the game with 10 points, 8 rebounds and 6 assists. Suffern was led by Junior Clevmer Lubin who had 28 points and 16 rebounds in the loss. The 6 foot 3 inch football running back has scholarship offers from Army, Buffalo and UMASS according to Rivals.
Earlier at the County Center, Horace Greeley High School had beaten New Rochelle High 71-56 in the other Semifinal, setting up a Sunday March 8th Championship Game with Mt. Vernon.
It would be Greeley's 1st trip to the Finals since 1998. Greeley had not won a Section 1 Championship since 1980. The Knights returned to the final for an astounding 22nd straight time.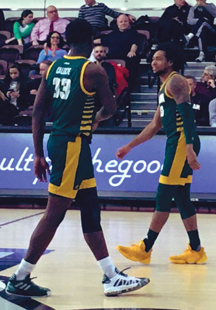 On Saturday March 7th I went to Fordham University in the Bronx to watch former Mt. Vernon Knights, Greg Calixte and Jason Douglas-Stanley play for George Mason University at Rose Hill Gym. It was great to see them on the court smiling in the 65-61 George Mason victory. After the game I enjoyed the culture of Arthur Avenue. Savoring the walk through Fordham's campus and the Avenue.
On my final weekend of the 2020 Hoop Season it was time for the Section 1 AA Finals at the Westchester County Center on Sunday March 8th at High Noon. It was a surreal game and day. The score at halftime was 19-10 with Mt. Vernon scoring only 10 points in the 1st half. The second half was more like normal with Horace Greeley bettering Mt Vernon 27-26. The horrible offensive first half led to a 46-36 Greeley win and the 1st Gold Ball for Horace Greeley High School in 40 years.
Three days later on March 11th, Horace Greeley would beat Newburgh Free Academy on a last second play 50-48. With the game tied at 48-48 Greeley's Coach Matt Simone used a play he put in for the Mt. Vernon game. With 3.6 seconds left Greeley used the full court, two pass play to win the NYSPHSAA AA Regional playoffs in front of an empty gym at Newburgh. Season Over!