Photos by Debbie Tuma
East End Arts & Humanities Council of Riverhead held a benefit in August, in a tent behind their office at 141 East Main Street, celebrating their 50th Anniversary.
East End Arts & Humanities Council, Inc. is a multi-award winning 501(c)3 not-for-profit arts organization serving the five East End towns of Long Island, NY since 1972, and is committed to building and enriching community through the arts by way of creating a vibrant arts community on the East End that enhances individual and professional artistic development, stimulates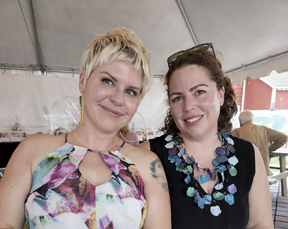 community enrichment, economic development, and cultural tourism while encouraging a wide range of artistic expression through education, exhibition and performance, and collaboration across the community. As a regional multi-arts center recognized as an "outstanding organization focused on local neighborhood priorities", East End Arts acts as a powerful catalyst for economic and cultural revitalization in Riverhead its home base, and for the surrounding villages and towns. Dedicated to cultural development, East End Arts is a stimulus for regional economic growth and revitalization efforts through promotion of the arts. East End Arts is recognized for a long history of engagement in economic development through
cultural tourism initiatives and programs that collaborate with various levels of government, civic groups, private business and non-profit entities. East End Arts leverages those relations to support the needs of artists of all disciplines and support arts organizations on the East End of Long Island and beyond. The East End Arts School is a gathering place for aspiring artists, musicians and actors. Under the tutelage of professional faculty, students of any age can study in a private or group setting. The School is a member of the National Guild of Community Arts Education and a founding School Candidate for the Royal Conservatory Music Development program serving as an Assessment Center for the entire Eastern Long Island region and will offer specialized preparatory courses for those seeking to participate in the program. East End Arts is committed to accessibility to the arts for the entire community.
This multi award winning organization serves about 1400 students each year.