by Patria Baradi Pacis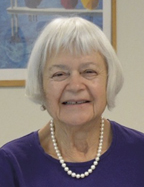 Young at hearts who were born in May were Evelyn Walles, Robert Mulligan, Eugene Klausman, Nolda Vivo, Edna Neuer, Joe Baradi (my brother) and yours truly. Iris (Chicky) Aster and my sister Perla Spanskie were missed.
Some of us wore red, white and blue, the colors of the USA flag, to honor and remember the women and men who fought and died in the armed forces while serving our country so that we can enjoy the freedom that we often take for granted. Even the delicious, strawberry birthday cake was patriotic, decorated in red and white for the Memorial Day celebration, courtesy of Executive Director Sharon Sennefelder.
From the look of the tables filling up, one can tell that the snowbirds are back in town for the duration of the summer. Finally, the perfect weather of sunny days and cool nights that Montauk is known for has also arrived.
There's plenty of activities that are held at the center from chair yoga, to meditation, to health programs provided by East Hampton Town, to bingo, cards, dominoes and mahjong. If you would like to join the group, kindly contact Ms. Sharon at 631 668 1023 on week days or send her an e-mail at mtksenctr@gmail.com.
Happy Birthday May babies. Wish you all a Happy 4th of July and a great summer!