June 2021
Moving On…
This will be my final column folks, and I want to thank everyone who enjoyed my monthly chat. I hope the information I shared was helpful and educating. I also want to thank the Montauk Sun for their great publication and asking me to be part of it. My very first column was back in July of 2018, and my intentions were  to give readers an opportunity to understand and welcome wildlife into their lives, rather than consider them an expendable nuisance.
The eastern end of Long Island is a paradise to the folks who live here and also to those who visit. It is not however, paradise to our wildlife. Our own human impact has made the Hamptons a challenge of survival for our beautiful wild animals. In fact, the reason I started Wildlife Rescue of East Hampton was because the only other wildlife rescue organization at the time was located in Hampton Bays and they had a volunteer issue out east.
One afternoon a call came in for a deer trapped in a fenced in property in East Hampton. Wildlife Rescue in Hampton Bays was called but no one was available to respond. With no follow up, or communication, the deer remained trapped and starving for an additional three days. On day four, I received a call about the same deer trapped in the fenced in property. I initially thought the deer had been attended to, after all, three days had gone by and the rescue organization had not mentioned never responding to it. I responded immediately and found the deer laying on its side in the pouring rain, looking very much dead. I had a tarp in my truck and just as I turned away from the deer to go fetch it, I thought I saw the deer move. I checked closer, and in fact the deer was still alive, barely, but alive none-the-less. I took it home, rehabilitated it back to health and released it back into the wild. THAT'S when I decided to start my own wildlife rescue organization in the East Hampton area. After all, I had been doing wildlife rescue and rehab for over 30 years in multiple states, and also ran a 100% no kill wildlife removal business.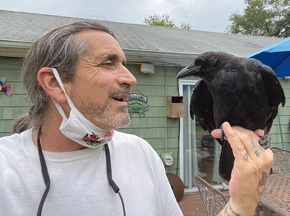 Over 500 wildlife rescues (since I started the organization in 2019), and over 500 wildlife remediations (since I started my business in 2013) later, I've decided to move on. These days, the wildlife have plenty of folks watching out for them. I've trained dozens of volunteers in wildlife rescue, produced three different wildlife related television shows for our local tv station as well as posting over a hundred tutorials and live rescues on social media. I must have inspired folks, because nowadays it seems like everyone on the east end is involved in wildlife rescue in one way or another, and social media is swamped with wildlife rescue videos. Unfortunately, the human impact to our precious wildlife has also increased, and it doesn't look like things will be getting better.
An exodus of new residents have packed our community to the brim, many of them clueless to the fragility of both our wildlife and our environment in general. The increase of trash and litter alone is staggering, and the present number of residents who have illegally installed not-to-code fencing around their entire properties have left me wondering if East Hampton Town Code Enforcement even functions anymore. Meanwhile huge houses are still popping up all over, erasing every last bit of wildlife habitat, with no end in sight.
The future for wildlife here in the Hamptons is not pretty. Hunting is now allowed YEAR ROUND by special permit, and that includes on private properties in residential areas; even in the Village. That's right, you're not safe either. It's just a matter of time before a crossbow bolt or arrow comes slicing through your living room at night while your watching television. Local government attempted to get involved back in 2014 with the grand idea of culling, or straight-up killing deer strictly to ease the population. Fortunately they were shut down by the animal loving community. In return, the Village of East Hampton, under the lead of then mayor Paul F. Rickenbach Jr and the EH Village Preservation Society, decided to hire out-of-state animal killers to  "NOT" kill the deer outright, but to torture them with ovariectomy surgery in the field during a brutal winter in an effort to decrease the population in the Village. Many of these deer died a terrible, inhumane, suffering death, and just a short year later the entire program was deemed a complete failure. Meanwhile, the deer that did die were soon replaced by deer from the Town,…duh! This complete bonehead act just proved that our local government didn't have a clue in what they were doing, and didn't care at all for our wildlife.
Since that immense moral failure, the Village has thankfully replaced their mayor and the board members involved in that massacre. Meanwhile the Town has chose to do what they do best, ignore the situation and allow it to fester and become an even more difficult problem to solve. And if that doesn't prove the negligence of moral thinking here at home, let me remind all you animal lovers that NY STATE is planning on extirpating ALL the mute swans in the entire state of New York by the year 2025. In short, the Hamptons are no longer a safe or friendly place for our wildlife. But as mentioned, there are now dozens of volunteers and wildlife groups available to help the animals when they will need it, and they will. A few months ago I was called to a wildlife emergency. When I arrived, there was already two other responders there from two separate wildlife groups. All these folks need now is some sort of communication and organizing so folks know when others are responding. I don't expect that'll happen, so rather than step and get stepped on, I'm redirecting my efforts to something even more special and beneficial to the wildlife; something no one else is doing and is absolutely necessary,..education!
At summer's end, I'll be relocating to my new home in Massachusetts. From there I will continue my work with wildlife as I've been approved to add the state of Massachusetts to my non for profit, while keeping New York as my primary state of operation. This means I will be EDUCATING and TRAINING folks about wildlife and wildlife rescue in both states and also make myself available for educating around the country. I've already been asked to visits schools in Florida, South Carolina, Idaho, Washington State, Ohio, Indiana and California. I'm also presently producing a video on EVERYTHING YOU NEED TO KNOW ABOUT WILDLIFE RESCUE, a complete training film for those who wish to get into the field and what to expect. There will be no charge for the training, simply a gift of knowledge from my 33+ years of experience and from Wildlife Rescue of East Hampton.
I'll also continue to produce films that will benefit our wildlife through education and awareness. I actually met with three different network television production companies over the past 8 months who were all interested in bringing to television my work and my passion, but it required me to continue doing rescues; and that would not leave me the time necessary for my educational endeavors. I'm sure the reality scouts can find someone to fill their needs, but my calling is crystal clear, and education is key.
To all my family, friends and fans, I wish you the very best. I only ask that you consider understanding and compassion for the beautiful wild animals that call the east end of Long Island home. And if you still have to ask why, let me simply state one last time,… because WILDLIFE MATTERS.
~ Dell Cullum
Wildlife Rescue of East Hampton • Hampton Wildlife • WROEH.org