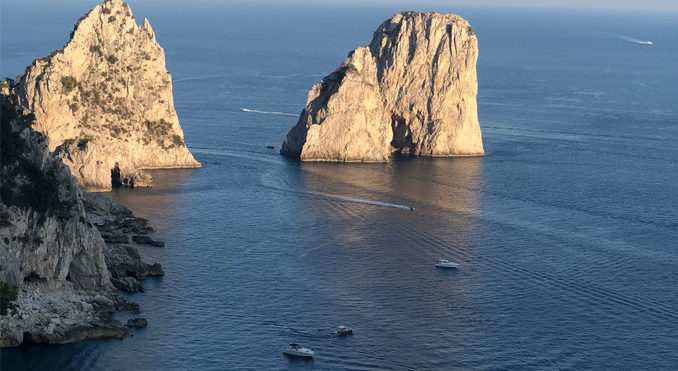 by Debra Rose
Chances are that if you are reading this, you are here, and have earned the fall season by managing the summer months in Montauk. Autumn is notoriously the best time of year for weather, surf and crowd level so you may not want to be anywhere else. Should you decide to hop on a flight and experience fall in another amazing locale, the Island of Capri is calling.
Locals on this exotic and rugged little island are also celebrating the end of summer and departure of tourists, taking full advantage of the Autumn season. The natural beauty of the people, cuisine and landscape paired with warm weather through October is worth celebrating. Raise a glass of your Limoncello to that.
While chic and vibrant Capri is to East Hampton what rustic, charming Anacapari is to the former Montauk, both are worth exploring. Once you have made it to Naples, take the ferry to this four-mile long island and experience the shops, nightlife and dining of Capri before dabbling in the low-key Anacapri. Now it's time to start check out the Island of Capri's exclusive treasures.
Faraglioni   You have seen a photo of this iconic symbol of Capri without realizing it. The three limestone rocks separated in the sea puts Witches Rock to shame. You can boat around and through them while taking endless photographs of such stunning scenery.
Hiking   There is no need for a gym when you can find endless picturesque trails and hikes weaving around the top of the island, along the Punta Carena Lighthouse, and up the 921 Phoenician steps from Capri to Anacapri. The vistas are so dazzling you will not realize how happily sore you will be from the best workout with views to match.
Custom Sandals   When is the last time you had a someone measure your foot, let you chose the color, design and heel height of your shoes while an Italian cobbler crafts your sandal to your specs with the best leather in Italy? Likely this was not your last experience when ordering shoes online or stopping in your local boutique for summer sandals. Reasonably priced for the product and experience, you will never be the same after indulging in being a shoe designer for the day.
Caprese Salad   The birthplace of Mozzarella, tomato and basil, the salad here is no joke. Vine-ripened tomatoes, pure Italian olive oil, organic basil and fresh Mozzarella is a dish you can live on.
Beach Clubs   Have you ever had the chance to dive into the water to splash amidst Roman Ruins, lounging after to sip on Sgroppino before sunset, to then watch fishermen head out to sea on traditional wooden boats at twilight? Exactly.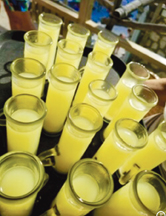 Frozen Sgroppino   Speaking of Sgroppino, you will be motivated to invest in a blender and time spent attempting to recreate this slushy cocktail of choice; Vodka, lemon sorbet, Prosecco and shaved lemon rind will be staples in your bar from now on.
Blue Grotto   As the Blue Lagoon in Iceland is legendary, the Blue Grotto is the place you must see while on the island of Capri. On the side of a mountain in a natural sea cave, darkness gives way to a deep electric blue reflected off of the stone walls once sunlight passes through the slim cavity of rocks. Is that dazzling blue glow beneath the surface water or heaven? You will be left wondering.
Plazza Umberto I   Affectionately known as La Piazzetta, this Main Square of Capri is the quintessential spot for people watching at all hours of the day and evening. Windy cobble stone streets, passageways, alleys, boutiques and restaurants with rattan chairs and tables grouped generously all over welcome you as you listen to the clock tower chime every thirty minutes. Sip your cappuccino in the morning, Limoncello in the evening, and be sure to gather at the luxurious Quisisana Hotel for the ultimate Capri experience. This summer you have earned it. Ciao!