by Sue Giustino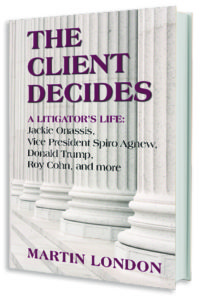 After a 45 year prestigious career at one of the country's leading law firms, Paul, Weiss, Rifkind, Wharton & Garrison, a Montauk neighbor – Martin London — narrates a fascinating memoir of his work life. Appealing to anyone in the law community, yet not filled with "legalese," his informal writing style enables even a civilian – like me — to feel as if I were having a casual conversation with Marty over drinks at the Inlet.
It is an intriguing look at his experiences with cases you may have read about in the paper or even a history book. Fascinating litigation of national importance is discussed, with a behind the scenes look right from the court room. Opening with a gripping account of a precedent-setting First Amendment case where London represented Jacqueline Kennedy Onassis and her son John Kennedy Jr. Through his writing, London reveals the struggle Jacqueline faced dealing with the haunting intrusion of their lives by a specific member of the press, and how he challenged the interpretation of the First Amendment to bring her justice.
You'll read about the government's criminal case against his client, Vice President Spiro Agnew, which reveals how and why it ended with a plea deal that avoided jail time for Agnew. Also reviewed is the political battle involving Vice President Hubert Humphrey and the legal fight London was brought in on that led to Humphrey's winning the1968 Democratic nomination. Other public figure cases included the disbarment of Roy Cohn, the case against CBS and it's Chicago TV anchor Walter Jacobson, as well as his defense of a friend being sued by Donald Trump for $105,000,000 are also highlighted. Not only did he successfully defend and win this case, but ultimately Trump even paid London's fees. As each case unfolded, London's tactics and strategies are clearly outlined illuminating how he produced both winning jury and Supreme Court verdicts.
London's pro bono civil rights case in the 90's against anti-abortionist extremists who were targeting physicians with their published rhetoric –- ultimately leading to the death of many — was one of the most interesting and riveting accounts for me. His ability to recount the experience not only from his perspective, but to convey the fear felt by the physicians who refused to buckle under the murder threats, for their own safety as well as their families, was profound.
Throughout, London's sense of humor and self-reflection is evident. He isn't pompous and does not boast about his status or successes. Yet, there are moments when he humbly recognizes his talent as an attorney that he is rightfully proud of. On the other hand, at the end of the chapter titled 'Judging the Judges', he acknowledges that "sometimes I am not so proud to be a lawyer."
This memoir is a first-hand look at the excitement, tension, stress, and anxiety of being a trial lawyer. London's ability to examine and connect the underlying facts…untruths…questions… with the law is like an artist's ability to eloquently brush a blank canvas and have it come alive.
The book is now on sale at A Tale of Two Sisters Bookshop in Montauk, and also at Canio's Bookstore in Sag Harbor, and Bookhampton in East Hampton. In addition, it's been getting many great reviews like the one below from the NY Post:
           A top legal mind recalls his courtroom victories, and the results are compelling.
                           ~ Richard Johnson, NY Post