by Debbie Tuma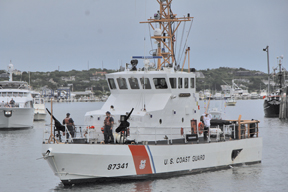 On a sunny, warm day the second Sunday of June, over 100 boats of all sizes lined up in the Montauk Harbor, to set sail for the 63rd annual Blessing of the Montauk Fleet. This tradition started when Montauk resident Vinnie Grimes was in the service, stationed in Europe, and he saw his first Blessing of the Fleet over there and decided to bring it to Montauk.
Since then, this bittersweet Blessing has been held for two main reasons—a happy reason–to kick off the start of a new fishing
season, and a solemn reason–to remember all the men and women in the fishing or related businesses who died in the past year. Each year, the clergy members of the various East End churches have blessed the boats for a good fishing season, and in past years, they have stood aboard the Montauk Coast Guard cutter Ridley. In recent years, when the federal government decommissioned this boat, the clergy members and also the families who lost loved ones, have been going aboard local party boats as the Ebbtide, which was used in recent years, including this year.
This year's clergy included Reverend Bill Hoffman of the Montauk Community Church, Father Thomas Murray of St. Therese of Lisieux Roman Catholic Church, Cantor Deborah Stein of the Jewish Center of the Hamptons in East Hampton, and Reverend Denis Brunell of St. Luke's Episcopal Church in East Hampton. They stood on the side of the Ebbtide, as it docked at the Town Dock where the commercial boats tie up, and they raised their hands to bless each boat as it passed by. This year, as always, there were all kinds of boats, from yachts to dingies, from power boats to sailboats, and from charter sport fishing boats to large commercial trawlers and draggers. There were also Boston Whalers, small skiffs, large party boats as the Viking Star, and even rubber rafts.
Each year, the boats are all decorated in colorful flags, and there are also beautiful flowered wreaths aboard the main, clergy boat. This year, there were an exceptionally large amount of wreaths to be thrown in the water, to commemorate loved ones who died in the past year. This year, there were 14 people who died, from captains, to mates, to people who worked on the water and in the seafood business. These included: Capt. Frank Tuma, Capt. Dave McMahon, Capt. William Butler, Capt. Bill Masin, Capt. Bart Richie, Roberta Gosman, Jay Scott, Frank Marrazzo, Walter Mallinson, Capt. Dennis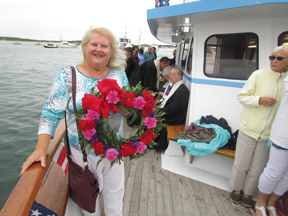 O'Grady, Capt. Gary Brady, Ginger Forsberg, John Fischetti. and Joe Ritsi, known as "Gloves." Each year, a final wreath is also thrown in to remember all the fishermen and related people who died in the past years.
Reverend Bill Hoffman, of the Montauk Community Church, said he has been coming to this Blessing for the past several years, and that he enjoys it very much. Coming from the Mid-west, it was a different experience for him.
On the Ebbtide this year were several family members of Captain William Butler, who ran a charter boat out of Montauk starting summers in the 1960's, while he was teaching English at East Hampton High School. His wife, Lynn Butler, now of Florida, threw in a wreath along with her son, Nate, of New Jersey, and daughters Jennifer Butler Lyman and Alisa Sanabria, of Delaware and East Hampton. "We had a great time living in Montauk for many years, and Willie enjoyed fishing here," said Lynn Butler. "We're all glad to be back."
Jean Masin was on board with her grandchild, Gianna Gregorio, and they threw a wreath in for Capt. Bill Masin, a long-time Montauk charter boat captain.
As the Blessing of the Fleet tradition goes, once all the boats get blessed, they sail out the jetties, past the bell buoy, and all the boats circle around the Ebbtide, to watch the wreaths being tossed into the sea. Then taps is played and other music, for the ceremony, and then the boats all toot their horns and steam full throttle back into the harbor for a celebration of another fishing season. Once back at the docks, there are parties at all the local bars and restaurants.
Captain Frank Braddick, who has been organizing the Blessing of the Fleet for over 20 years, said he was glad the weather cooperated and that they were able to use the Ebbtide fishing boat another year.
"This is always one of Montauk's best events of the summer, drawing huge crowds from all over the island and the city," he said. "It is a tradition that is also held in other fishing ports like Greenport and New Bedford….it is a great way to start the season."