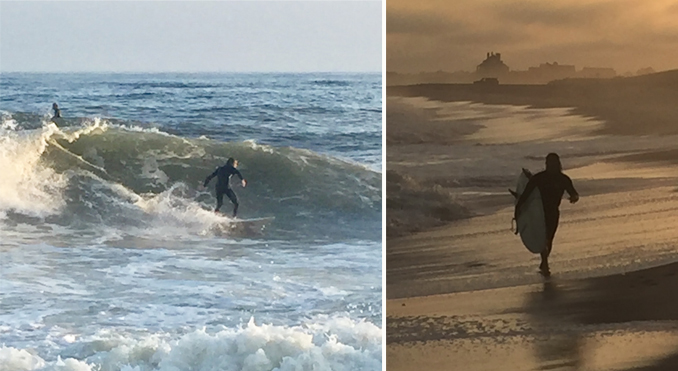 May 2021
Finding Refuge in Nature
"We forget we're mostly water till the rain falls and every
atom in our body starts to go home"    ― Albert Huffstickler
Surfers intuitively know this universal truth; we are meant to be outdoors. Catching waves at sunset, checking the surf at dawn, being immersed in the water, playing in the ocean whether it is rainy or sunny, we are at home. Others are learning this now as well. You may have noticed the popular response to the restrictions of the last year has been to go outside and play. Being in nature is vital to our survival and will hopefully remain a practice that lingers far into the future.
If you have been trying to buy surf gear, boards and other equipment you may also find limited inventory in all categories. Around the world surfing has gained tremendous popularity in the last year, with sales of long boards in Australia leaping to an over 3,000 percent increase.
Being allowed to surf during lockdown, having access to waves more often by working from home, and a need to be active outdoors, surfing's popularity is still growing. Without other activities prompting FOMO (Fear of Missing Out) and an absence of places to spend money, surf gear, boards and additional accoutrements provide an outlet for new and seasoned surfers. A refreshing and healthy sense of 'having nothing to lose' has helped many get over their fear of learning to surf. Without places to go and events to dress up for, the wetsuit has become the new black.
According to one local surfer, "Surfing is more than a sport, its iconic to our lifestyle and has been a life saver during this last year."
There are also more winter surfers than ever before, showcasing how critical it is to be outdoors and in nature all year long. Surfers are reaping the mental and physical benefits by getting exercise and lightening the mood for some fun in the ocean. Since surfers understand this better than most, we cannot feel guilty for making surfing a habit and a priority. Take advantage of being near the ocean and spend as much time outdoors as possible, even when just checking the surf (outside of your car).
Endless research shows our connection between well-being and our physical environment, and how our moods and thoughts are shaped by what is around us. It is a healthy diet for the mind, do we want junk food, or the nourishing outdoors? Science shows us how our heart rate, stress, anxiety, and even blood pressure is lowered when we are outdoors, while our focus, creativity and motivation can skyrocket.
Have you ever regretted taking a walk on the beach?
With more of an emphasis on socializing outside, we get to benefit from fresh air, vitamin D, getting fit and strengthening our immune system. In the water, we are also more mindful and meditative, which is why many surfers refer to the sport as their religion. The spiritual aspect of being a speck on a board in the vast sea is humbling, especially when you wipe out. You are in the moment, being present without time to ruminate on what is worrying you. It will be there when you are out of the water. For the time being, all you have to do is enjoy the ride.