by Sue Giustino
For many years, Jun (Johnny) Lin has been working at many of Montauk's Sushi kitchens. In the spring of2020, realizing Montauk's growing need for Asian cooking, he and his long-time friend Fan, found an ideal location to open Street Food Market; at 58 South Erie across from the Ballfield and next door to Montauk Brew.  This quickly became a hot-spot for take-out or to enjoy on an outdoor table, offering an array of fresh Stir fry, poke-bowls, dumplings, noodle dishes, and a whole lot more. Street Food will close by December and reopen in early spring. – mtkstreetfood.com.
In July 2021, he opened Seaside House at 57 Flamingo Avenue, adding a new predominantly Sushi/Sashimi café style venue to Montauk's list of delicious fish restaurants. – seasidehousebar.com On-line ordering is available at both of these locations.
As their success grew, an opportunity presented for a sit-down restaurant which as it turned out, was the perfect next step. Acquiring the historic corner restaurant on the 'Circle' across from the 'Green', [formerly O'Murphy's Pub and Circle Burger/Café] afforded Johnny and Fan the perfect space to create an eatery for their Asian specialties and the quality signature sushi they are known for at Seaside and Street Food. Street Food on the Green, complete with a spacious bar and intimate indoor dining, as well as a nice front patio to sit and enjoy the sights of the town while dining in season or any time the weather cooperates, opened in March of 2023 and is already a popular lunch and/or dinner destination.
Both Johnny and Fan are Chefs and Sushi chefs who work diligently to ensure the finest quality product and service in their establishments. Although they have a crew of seasoned chefs working for them, they jump in when needed especially during the high season.
With Halloween looming in the near future, we enjoyed a fabulous meal at Street Food on the Green and then stayed to hear some Halloween Karaoke with some of Montauk's spooky singers- karaoke takes place each Friday night around 9pm.
Entering the restaurant, it's obvious that friendly service is a priority. Although both the bar and dining area were quite busy, we received a friendly greeting from Sara behind the bar, and the manager Karen who then quickly sat us at a lovely table by a window.  As our server Kyle took our cocktail order- a Saketini, Mescal Negroni, Gin and tonic, and a Manhattan, he explained the specials and filled us in on a few of his favorites. The bar and dinner menu are quite extensive offering something for everyone so we needed some time to peruse.
The spacious dining room, located just behind the bar, has a light airy feeling with the wood tables and casual nautically inspired décor.  Enjoying the cocktails, we spent some time admiring the room adorned with lovely local beach themed photos by Montauk Resident Mick Bundul. Karen informed us that prints can also be purchased.
To start, we ordered some appetizers from the comprehensive list including Raw Bar, Soups, Scallion Pancakes, Salads, traditional Asian variety and Sushi. Narrowing down our selections was not really easy, so we went with some of Kyle's recommendations. During another visit, we had enjoyed the tender Boneless Spareribs and Cajun Tuna Bites with a honey wasabi mayo;
both were delicious.  Our starters included a few of Kyle's favorites, the Pork and Chive Pan Fried Dumpling, Pepper Tuna, and the Roast Duck Wrap, as well as the Local Fluke Tiradito. Both fish were beautifully platted, fresh, thinly sliced, and flavorful. The gently seared Tuna was dressed with ponzu sauce and a slice of jalapeno, while the Fluke in a tasty lemon yuzu was delicately topped with a cilantro leaf and a dab of sriracha. Pan fried to a gently crisp, the thin dumpling along with the flavorful stuffing and a bit of the garlic soy sauce made for a delicious blend of flavors. And the delicate hoisin Roast Duck Wrapped with scallions and cucumber in a flour tortilla is a tasty and unique duck creation.
As for sushi, their sushi bar offers a wide array of choices from Nori Rolls and Specialty Rolls, to Sushi or Sashimi. We chose the Scorpion King Roll– a special of the evening- which had a perfectly fried soft-shell crab, cucumber and avocado inside with pepper tuna, eel sauce and spicy mayo on top-such a delicious blend of textures and taste. Chef also sent us a house specialty, the Pink Lady with spicy tuna, mango and avocado in soy paper with a sweet chili sauce which was as beautiful to the eye as the palate.
Looking to venture from the sushi side of the menu for our entrees, from the Hibachi Style which is served with stir fry vegetables in hibachi brown sauce and white rice, we enjoyed the tender marinated Ribeye Steak. However, you can also have this light yummy dish with chicken, shrimp, salmon, or local sea scallops. Offering a nice selection of protein for the Poke Bowl – including fried shrimp, chicken, fish or scallops, veggies, lobster, salmon, or the fresh tuna which is what we decided on. Generously portioned, the chunks of tuna are perched atop a wonderful bowl of lettuce, mayo, cucumber, avocado, edamame and seaweed salad, and served with a citrus dressing and spicy mayo.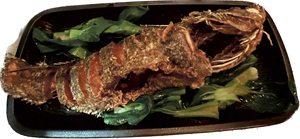 Although we thoroughly enjoyed every meal, our final meal was the table favorite. A Whole Local Black Seabass which we had fried with a light sweet-n- sour sauce sided with Bok choy and white rice. This was by far the best I've ever had, crisp outside with tender flavorful meat accented by the gently sweet sauce- absolutely fantastic.
Desserts are always a good idea. Be sure to check out their list of decadent treats, and if Fried Ice Cream is your thing, be sure to try this house favorite which is tempura battered and deep fried with your choice of either chocolate or vanilla.
The evening was fun, relaxing, and delectable; a fine dining experience which was enhanced by the service- especially with the pleasant and accommodating Kyle as our waiter.
*Street Food on the Green is open daily for lunch and dinner. * Happy Hour is every day from 3 to 6 pm at the bar. *Private parties are available in the restaurant or at home. During which a sushi chef will prepare everything in your home. *Party platters are always available. For more info go to- streetfoodonthegreen.com.