by Sue Giustino
With deep roots in the community, Chef Sammy has etched out a name for himself. His history includes his grandfather running the commercial dock prior to Gosman's owning it, and his mother's distinction of having the 1st birth certificate in the incorporated village of East Hampton. Not to mention his long running resume as a Chef here in Montauk since 1978: as well as off season destinations like Hawaii, Mexico, Florida and California. Now, with his own casual, family friendly restaurant, in its 6th year, he has a fine reputation of great food with consistent quality. Using only the best ingredients, he keeps customers coming back again and again.
Having enjoyed many meals at Sammy's, it's always easy to choose from the many delicious meals he has designed. From casual fare of soups, salads, and sandwiches, to full entrees of fish, lobster, steaks, and ribs- there's something for everyone. Of course, Sammy's One and Only Lobster Burger is an all-time favorite!
On a damp evening in October, we decided to start our meal with a few soups, Calamari and Baked Stuffed Clams. Served with a spicy marinara sauce, the generous portion of batter dipped Calamari is light, crunchy, and tender. The Clams are fluffy and full of flavor;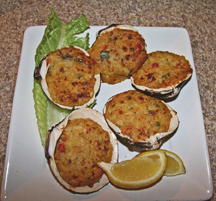 full of chopped clams with a fresh herb stuffing. Seafood Chowder is one of my favorite soups, and Sammy makes it to perfection. The light tomato based broth is full of diced fish and vegetables accented with fresh seasonings. If Lobster Bisque is your choice, this one is delicious; rich and creamy with chunks of lobster.
Since it was October, Sammy has a wonderful Oktoberfest Menu- unfortunately for us, this article was for our November issue so our meal could not include that menu. However, the large Bavarian Pretzel with special mustard and the Sauerbraten with Red Cabbage was calling my name and I'll be there to enjoy it before the end of the month. Be sure to check it out next October!
Although we avoided the Octoberfest choices, we certainly didn't suffer, our entrees were perfect as always. The Lazy Man's Lobster is a large portion of lobster meat served with butter, Fries and Coleslaw. It takes the mess out of emptying shells yet you get all of the fresh flavor. Montauk Sea Scallops are wrapped in bacon and broiled to perfection and served with a White Bean Pistou and Spinach. Full of flavor with the accompanying Pistou and spinach, makes this dish an excellent choice.
Finally, the Fish of the Day was fresh Striped Bass broiled with smashed potatoes, sautéed spinach and topped with a fragrant garlic sauce. Such a delicious combination of flavors! To accompany our meal, we enjoyed a side of the crispy, sweet, batter dipped Onion Rings.
Always delicious, Sammy's fare can be enjoyed for lunch, dinner, drinks or just a snack. Sit inside, outside on the patio watching the boats in the Harbor, or call ahead for a take-out order. Private Parties are also one of Sam's specialties, be sure to call for information. http://www.sammysmtk.com/
Looking for Thanksgiving Dinner without the fuss? Sammy will take the hassle out of your day. He's offering a complete dinner for up to 8 people, an individual Turkey dinner, or A la Cart choices- all for take-out.
Speaking of Thanksgiving- be sure to leave a donation in the jug on the counter. Help Sammy raise money to provide the Montauk Food Pantry with 300 Chickens which he will personally prepare to be distributed on Thanksgiving to families in need.
448 Westlake Drive, Montauk • 631.238.5707
mtksammys@gmail.com • sammysmtk.com