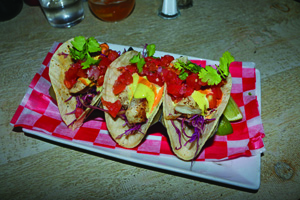 Saltbox Restaurant and Bar is a casual friendly coastal style pub offering an excellent list of mixology concoctions and a creative pub style menu with a flare.  Including local and international tastes, they strive to 'pay tribute to the local bounty, lifestyle and artists that make Montauk a dynamic beachfront community.'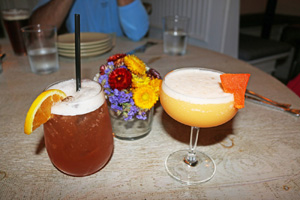 We've enjoyed eating at Saltbox a few times throughout the season; whether enjoying a snack at the bar while listening to love music, a special Bloody Mary with a lobster slider garnish, or a main meal, the food is consistently fresh and the experience enjoyable.
On a Sunday evening in September, along with some friends, we enjoyed a lovely relaxed meal. The room is open yet one gets a comfortable feeling being surrounded by local art work on the wood planked walls and the soft glow of the setting evening sky peering through the large front windows.  As recommended by our waitress Liz, we relaxed while sipping on a Mango Coconut Martini and Lazy Point Iced Tea. The Martini mixed with mango infused vodka, crème de coconut and pineapple juice is both creamy and smooth. While the Iced Tea with citrus vodka, Aperol, home brewed iced tea, and fresh lemon juice is a tasty light tea with a twist.
As we proceeded with our meal, we chose some items we haven't tried and as a result found a few new dishes to add to our list of favorites. The Grilled Corn served with mayo, cotija cheese, chili-lime powder, and cilantro isn't your typical backyard grilled corn on the cob. While the Crispy Asian Shrimp tossed in Ponzu sauce is crisp, tasty and served with a spicy Sriracha mayo. If you enjoy a salad full of fresh vegetables, the Saltbox Salad is a perfect choice; tossed with beets, carrots, cucumber, avocado, cherry tomatoes, mixed greens and fresh dill, and tossed with a light lemon-garlic dressing. Each of these delicious openers along with the additional choices on the menu are a great way to start a meal, or to order just as a snack.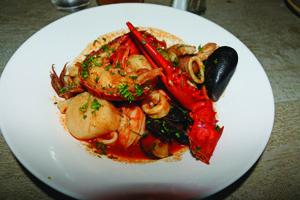 From the Mains, we sampled five dishes, enjoying each one. The Baja Fish Tacos with grilled whitefish, shredded cabbage, cilantro aioli, and Pico de Gallo is one of my favorites along with the classic Lobster Roll with a lightly toasted bun and crispy French fries. The NY Strip Steak Frites also served with French fries was cooked to order, and the very tasty chimichurri sauce was a perfect accompaniment. Unanimously a table favorite, the Montauk Fisherman's Soup includes the chef's selection of local seafood. For us it consisted of mussels, calamari, shrimp, fish and lobster with petite potatoes all in a lightly spicy chili-lobster broth. Simply delicious!
So for lunch, dinner, or just an afternoon or evening cocktail, The SALTBOX is an easy and tasty choice, and it's right on the circle in town. For additional information, operating times, or catering visit http://www.montauksaltbox.com/.