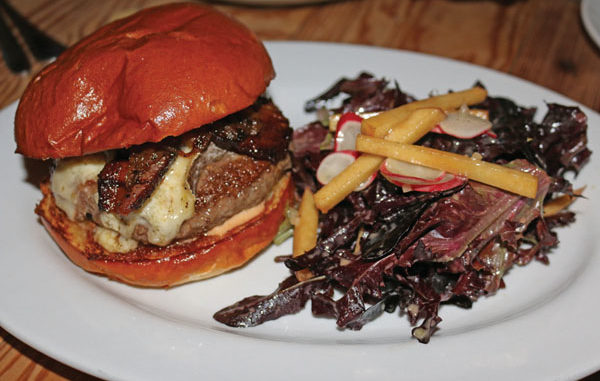 …by Sue Giustino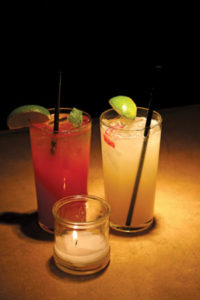 Nestled away on Second House Road in a quiet wooded location overlooking the lake, Ruschmeyer's offers a laid-back alternative for fine dining. There's even a lovely garden in back lined with cabin style rooms with a contemporary take on cabin décor, and outdoor games for your enjoyment.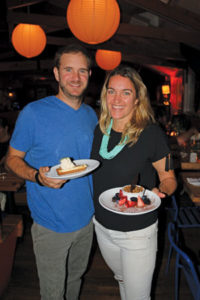 This season Executive Chef, Savannah Jordan, returned with an all new menu built for sharing. Being formally trained at the Culinary Institute of America along with extensive experience in NYC and California, Chef Savannah brings her talents to Montauk incorporating local produce as well as visiting the docks for tuna, local day boat scallops, and more. On a Wednesday evening before a few laughs at their weekly Comedy Night, we had the pleasure of meeting Savannah and enjoying her fine creations.
The rustic décor of the dining room welcomes families and friends to enjoy the view and relax with wooden tables and bench seats adorned with friendly blue stripped cushions. We arrived and met our friends at the bar where we sipped on some of their signature cocktails. Although they were all creative and delicious, I would highly recommend the Rushmeyer, or for Mezcal fans the Mezcal Season.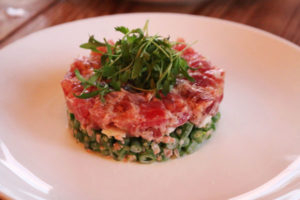 As we were seated at a lovely round corner table, our friendly waiter Brent greeted us offering suggestions from the menu of Small Plates, Wood Fired Pizzas, and Large Plates. Perusing our choices we decided on a few small plates, then Brent sent word that the Chef would be sending out some of her favorite dishes as well; we had quite a feast. From the Small Plates we tasted the highly recommended Tuna Tartare which was an amazing blend of
flavor and textures, with haricots verts and rice tuile adding a bit of crunch to this tuna dish. Served with crispy toasted bread, the creamy Burrata with dandelion greens, pistachio and pistou was fresh, full of flavor and a table favorite. Kung Pao Cauliflower takes cauliflower to an entirely new level, roasted with Thai chili and cashews and topped with a bit of arugula the flavor was outstanding. The Charred Octopus prepared with chili, celery and garlic was grilled to perfection- charred on the outside and tender on the inside.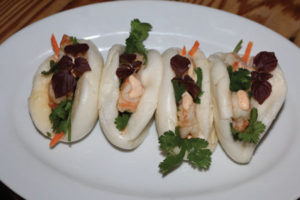 Finally, if you haven't tried Shrimp Bao Buns you may want to give these a try. The tender plump shrimp sit in the soft white bun atop a bed of yuzu, jalapeno, and shiso creating a soft, slightly spicy treat.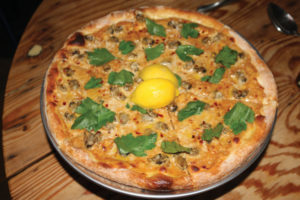 A selection of three Wood Fired Pizzas are also available and each one sounds delicious. We enjoyed the Clam pizza with cockles, white sauce, lemon and parsley which was unique and crispy. You may prefer to choose the Pesto or the Margherita which also looked delicious!
From the Large Plates, we had their signature Rusch Buger and the Yellowfin Tuna & Sea Scallops. The burger was cooked perfectly and garnished with cambozola, bacon, Louie Sauce, and caramelized onion resulting in a mouthwatering mix of flavors; a burger to remember. The delicately pan seared Yellowfin Tuna and Sea Scallops were tender and flavorful, perched upon a bed of Arugula mixed with mango and avocado.
Dessert is available so you should check with your server for the evening's treats. Although the Chef told us she's not a pastry chef, she did an outstanding job on the Car Bomb Whoopee Pie with Bailys, the Coffee Budino served with a pecan crumble and an espresso dark chocolate bark, and the Key lime Pie. Throughout the meal we found each dish full of unexpected scrumptious blends of flavor that were quite enjoyable – we are looking forward to returning.
Starting September 6th, they will be open for dinner Wednesday -Thursday and Sunday 5:30-10:30pm and Friday and Saturday 5:00-11pm. Come join them in their expansive dining room or sit outside in the garden. For more information: https://www.ruschmeyers.com/