Not so long ago travelling into the jungle was a thing for professionals and adventurers who were comfortable with a tent or a simple hut. Times have changed dramatically and today luxurious jungle lodging is being offered all around the world to the discerning adventure traveler. Though the volcanologists, zoologists and eco-tourist will most likely assure you that high thread-count sheets or jungle facials are not what they came for, although it may have influenced their destination decision.
Costa Rica is known for its beaches, volcanoes and immense biodiversity, as roughly a quarter of Costa Rica is made up of protected jungle, rich with wildlife including spider monkeys, birds and colorful plants. Our base was San Jose where we had rented a house from a friend from where we discovered the Lake Arenal area and Poás Volcano, one of the major attractions in the Central Valley region and one of the most visited national parks in all of Costa Rica. The still active Poás was good to us, though we were there in the afternoon and the best time to visit is supposedly in the morning, the cloud forest opened for us and we got to take some awesome pictures.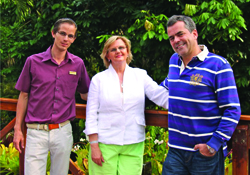 In the famous Arenal Vulcano area we visited "The Springs Resort and Spa" (www.thespringscostarica.com), which offers an array of on­site facilities including hot springs and cool pools, restaurants, a spa, and fitness center. Here one of the episodes of the US hit series 'The Bachelor' was filmed several years back. Their hot pools were man­-made and sleek, but fed with hot volcanic water other than the nearby 'Seven Stars Award™' winning Thermal Spa Resort "Tabacón" where some of the hot mineral springs are part of natural volcanic rock pools. Nevertheless our accommodations The Springs were top notch and the service good.
However, one of the most unusual natural mineral water spas of the world was beckoning. At Tabacon Grand Spa Thermal Resort, the hot springs are 97% rain-based and 3% magma-based. Natural hot mineral water, heated deep within the earth, high in minerals and legendary for its healing powers are feeding chemical free waterfalls and natural lagoons on-site. People visit Tabacón from all over the world and have favorably compared the Grand Spa minerals springs with the primordial thermal water spas of Baden-Baden, Vichy and Evian. Europeans, are especially aware of the health benefits of mineral water spas and visit them frequently for their healing attributes, and cherish Tabacón's location.
The name Tabacón originates back to a local hot spring pool and restaurant in the 1980s known as Balneario Tabacón. Inspired by the natural assets of the location, a team of Costa Rican investors had gotten together in the early 90's and hired Architect Jaime Mikowski to design a world-class hot springs complex. Mikowski was inspired to design a resort that makes its rain forest setting the focal point that features a natural thermal river with twelve hot spring pools, semi secret lagoons, lush waterfalls, exotic gardens, wondrous trails, an amazing spa and over a hundred luxurious accommodations. The Tabacón Grand Spa Thermal Resort, which opened it doors to the public in early '93, has since then become one of the 'Do Not Miss' tourist destinations of Costa Rica. Will Smith, Dennis Quaid, Mel Gibson and many other VIPs have stayed here.
But Tabacón's real star will always be Uwe Wagner, the former Managing Director who had put his heart and soul into this project and thereby placing Costa Rica's Arsenal region on the global map. He transformed the resort and its' former Iskandria Spa into the Tabacón Grand Spa Thermal Resort, which has become one of the most accredited Green Thermal Spas worldwide. Uwe Wagner's philosophy is that environmental awareness and motivation starts at home. "If you wish to see change happen, YOU have to be the change…". The resort has essentially contributed to the growth of La Fortuna and the Arenal region, which is the second most visited region by international travelers today. Uwe F. J. Wagner is the Senior Faculty Instructor & Ivy League Corporate Solution Expert and International Marketing & Hospitality Management at eCornell – Cornell University and delivers services in business consulting globally. (www.tabacon.com)