…by Sue Giustino…
In February of 2018 Eric Bilka joined the Pindar 'Damianos' family Vineyard. We spoke with him just a few weeks into his new position and he outlined some of the changes and organizational projects he was planning. On our most recent visit in August, we were able to see many of those ideas implemented and up and running; including a new refrigeration system, a roto-fermenter, and reorganization of the barrel room. As vintner of Pindar, Duck Walk and Jason Vineyards, he wears many hats – plumber, electrician, mechanic and of course cultivator of grapes and winemaker.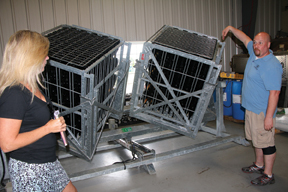 As they were prepping for the upcoming harvest, he was happy to report that the grapes were plentiful; enough that they were even selling some grapes. And while this crop would go to the existing line of wines, he'll be trying some new things with the '18 harvest- "Making decisions as we go to make the best wines we can." He's also planning a line of upper level wines for the near future. As for specifics, Eric said "We'll wait and see what the fruits let us do."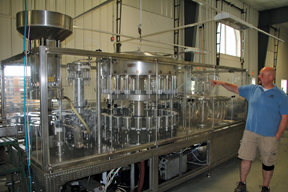 If you haven't toured this facility, it's worth the trip. It's quite enormous and designed with their continued commitment to sustainable agriculture and renewable energy. In addition to being over 80% powered by a 156 Foot tall, 100 Kilowatt Wind Turbine that sits in the field aside the building, they recycle the tasting room bottles, the light bulbs are efficient compact fluorescents, they use high efficiency dishwashers use a fraction of water than their conventional counterparts, and customers are encouraged to bring back their corks for recycling into corkboard and flooring. In addition, the residual skins, stems and leaves from the fermentation process becomes a compost that is used every couple of years in the vineyards adding nutrients back into the soil.
"We are now proud to say that the process behind creating every bottle of wine at Pindar Vineyards is environmentally friendly and we continue to seek ways of protecting the integrity of this land for generations to come" – Pindar Damianos.
The tasting room is a large space with 2 tasting bars, as well as an outdoor patio and band shell. Across from the tasting bar is a display wall of their wines which vary from light sweet dessert wines, to summer rose, steal or oak fermented whites, and a wide selection of reds. Some of my favorites include the Summer Blush which is a semi-dry Rose made with Merlot and Cabernet Sauvignon grapes, with a unique subtle strawberry flavor; refreshing and simply delicious with light summertime foods. I'm an 'oaky' white wine drinker so the Sunflower Chardonnay, which is limited special reserve and completely barrel fermented in new French oak, is my favorite. It has lush vanilla and caramel notes, with a back palate of apple and pear; perfectly balanced with a bright splash of acidity, is it a magnificent pairing for lobster and summer salads. Although, while there Terry one of their fully informed, friendly sommeliers let me sample the 2016 Viognier. It has bright notes of melon and pear yet is also pleasantly dry. Pythagoras is a special red that was first crafted to celebrate their 15th anniversary of winemaking on Long Island. It's a Bordeaux blend rich with berry notes and a smooth finish; it's sure to please a wide range of palates. On the spicier side the 2014 Syrah has a dark berry, lavender and peppery nose with a smooth vanilla and toast finish. The 2014 Mythology Meritage offers a lovely blend of Cab Sauvignon, Cab franc, Merlot, Petit Verdot and Malbec.
If you like dessert wines they offer a variety. My favorite, is the Cabernet Port; Selected Cabernet grapes are aged in small oak barrels for two years to create this deep and hearty vintage Port with flavors of toffee, chocolate, and ripe cherry.
There is music and special events throughout the summer and fall so be sure to go to their website for complete event schedule: https://www.pindar.net/Events/Event-Calendar