by Evelyn J. Mocbeichel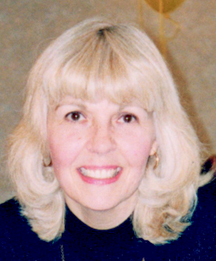 Looking for someplace nearby to visit that will transport you from our dreary winter weather to a place filled with color, warmth and the beauty of nature all in one package? The New York Botanical Garden (NYBG) has announced renowned landscape artist Lily Kwong as the guest designer for its 20th annual Orchid Show. Featuring immersive installations of thousands of orchids, Lily Kwong's design of the exhibition will transport guests to ethereal, reverent landscapes inspired by ancient Chinese garden design and artistic principles. The Orchid Show: Natural Heritage opened on February 18 and will be on view through April 23, 2023, in NYBG's historic Enid A. Haupt Conservatory.  The show will explore the diversity, adaptability, and worldwide cultural significance of these formidable flowers. Inspired by classic paintings of Chinese mountain scapes passed down through her family from Shanghai, Kwong will utilize an extraordinary array of orchids, including iconic and rare specimens enveloping visitors in towering mountainous forms that blend ecology, culture, and fantasy. Inspired by Kwong's own heritage, medicinal traditions, and her artistic interpretation of nature as a healing force, the resulting experience will beckon visitors into an immersive world in which humanity and nature coexist peacefully. Working in collaboration with Kwong to bring her vision to life, horticulturists at NYBG have identified orchids from the Botanical Garden's collections, as well as from some of the finest flowers in the world, with a specific focus on Asian countries. The exhibition's varied installations evoking ancient mountainous topographies will invite visitors to experience the boundlessness of nature's creativity and imagine a future where environmental harmony is restored.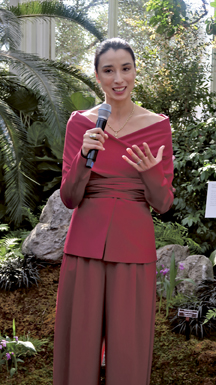 Lily Kwong is a Los Angeles-based artist that works at the intersection of horticulture, urban design, contemporary art, climate awareness, urban agriculture, and wellness, reconnecting people to nature through transformative landscape projects and site-specific botanical art installations.  Guest designer Kwong relates that."  In traditional Chinese culture, flowers are the carriers of rich cultural information and have been revered by scholars for representing integrity, peace, and refinement. These beautiful and often elusive flowers invoke poetry and admiration, inspire entire scientific careers, and are a critical part of our ecosystems. Orchids are the perfect plant to draw people into the complexities of our relationships with the natural world and our vital roles nourishing those connections." On select nights during The Orchid how, adults 21 and over can experience the exhibition through Orchid Evenings, with music, cash bars and food available for purchase. At NYBG Shop, visitors to The Orchid Show may browse thousands of top-quality orchids, from exotic, hard-to-find specimens for connoisseurs to elegant yet easy-to-grow varieties for beginners, along with orchid products and books.
Tickets for the exhibition are on sale now at www.nybg.org/orchidtickets The New York Botanical Garden is located at 2900 Southern Boulevard, Bronx, New York 10458. For more information, visit www.nybg.org